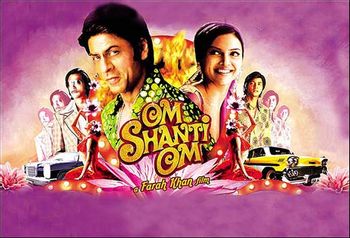 Om Shanti Om
is a 2007
Bollywood
film directed and choreographed by Farah Khan. It stars
Shah Rukh Khan
and Deepika Padukone in the lead roles as the protagonists while Shreyas Talpade, Arjun Rampal, and Kirron Kher feature in supporting roles. Arjun Rampal is the
Big Bad
in the movie. More than forty two well-known Bollywood stars appear in the course of the film,
including thirty of them (not including the stars of the film) in one song alone
.
Protagonist Om Prakash Makhija (Shah Rukh Khan) is a smalltime actor in 1970s Bollywood. He and his friend Pappu (Shreyas Talpade) are trying to succeed as leading actors. He is in love with the film actress Shanti Priya (Deepika Padukone), whom he eventually befriends after saving her from a fire on set. Later, Om overhears her argument with film's producer Mukesh Mehra (Arjun Rampal). It turns out that they are secretly married and she is pregnant with his child, and she wants to make their relationship public. Mukesh appears to agree, but then later murders her in a fire. Om tries in vain to rescue her, but ends up badly burnt and run over by actor Rajesh Kapoor, who was carrying his heavily pregnant wife to the hospital. Kapoor carries them both to the hospital, but as his wife gives birth, Om dies from all his injuries.
The plot then moves 30 years and we meet Om Kapoor (also played by Shah Rukh Khan), the son of Rajesh Kapoor and the reincarnation of Om Prakash, now a popular A-list actor. A chance encounter with Mukesh (now a successful international movie producer) and the discovery of the remains of the studios where Shanti died awakens the memories of his former life.
Furious for the fact that neither his past life nor Shanti's deaths received justice, OK decides to make Mukesh confess his crimes. His plan is simple: revive the production of the movie Shanti was going to star in, had Mukesh not killed her, then having someone masquerading as her roaming the studio to spook Mukesh until he breaks and confess on tape. OK even has the very good luck of finding a dead-on Shanti lookalike in one of his fangirls; but even with that help, making Mukesh nervous enough to confess is easier said than done...
---
This movie has the following tropes:
---