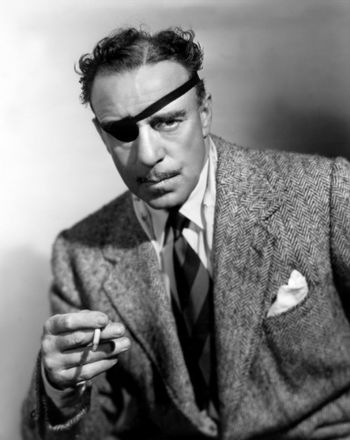 "To Raoul Walsh, a tender love scene is burning down a whorehouse."
— Jack Warner
Raoul Walsh (March 11, 1887 – December 31, 1980) was an American film director, actor, one of the pioneers of Hollywood, a man who had a storied career and colorful personality with which he infused into his movies. His movies are noted for being highly rambunctious, filled with men being men, tough women, and a great sense of adventure, especially when the going was tough.
Walsh was the son of Irish Catholic immigrants and from an early age was drawn into the performance arts, working on stage in New York City. He eventually came into contact with D. W. Griffith and appeared in many films, most notably when he played John Wilkes Booth in The Birth of a Nation. Walsh also worked as Griffith's assistant director and eventually went into films. Famously, he made a film in Mexico about Pancho Villa, starring Pancho Villa in 1914. (Sadly, the Villa film is now lost.) Historians feel that his Breakthrough Hit was Regeneration (1915), a proto-gangster film shot on location in New York's fading Five Points district.
Walsh continued directing and acting intermittently in the tens and twenties. but he became a full-time director as a result of a 1928 freak accident. Walsh was directing and starring in a film called In Old Arizona. While driving his car down a highway, a jackrabbit in the path of the car jumped on top and burst through the windshield. Walsh lost an eye as a result of this accident and gave up acting for good, famously wearing a distinctive eyepatch for the rest of his life. This accident was partly recreated in High Sierra with far less drastic results.
As a director, Walsh directed the likes of Douglas Fairbanks, James Cagney, Errol Flynn, Humphrey Bogart, John Wayne, Robert Mitchum, Spencer Tracy, Clark Gable, Gregory Peck. He's most associated with Cagney having made four films with the actor, including White Heat, arguably Walsh's most widely known film. He's mostly associated with Film Noir, war films, and westerns but admirers note that he made several different kinds of films. The likes of Martin Scorsese admire his films set in The Gay '90s (The Bowery which inspired Gangs of New York as well as The Strawberry Blonde and Gentleman Jim, which was based on his childhood). Walsh was a larger-than-life personality and a renowned practical joker; according to legend, after John Barrymore died, he hijacked the corpse and stashed it in Errol Flynn's room and was thrilled at his shock of horror. The page quote by Jack Warner is regarded by many as a good description of his Boisterous Bruiser personality.
Historians often believe that Walsh was Overshadowed by Awesome; as great as he was, his contemporaries were D. W. Griffith, John Ford, Howard Hawks, Orson Welles, and King Vidor. Despite this, he is considered a great filmmaker and an influence on several filmmakers and artists around the world, from Martin Scorsese to Rainer Werner Fassbinder, as well as composer Stephen Sondheim.
---
Films directed by Raoul Walsh with pages on TV Tropes
---
Raoul Walsh in fiction:
---