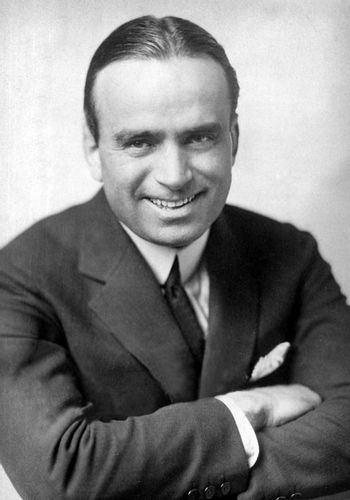 Douglas Fairbanks (born Douglas Elton Thomas Ullman; May 23, 1883 – December 12, 1939) was an American actor who was one of the biggest stars of the The Silent Age of Hollywood, half of the first Hollywood power couple, one of the founders of United Artists, and Hollywood's first Action Hero.
Fairbanks was born in Denver, CO, the son of a miner and lawyer who left the family when Douglas was five. He was performing on the stage while still in his teens, and he left for New York as soon as he reached adulthood. He signed a contract with D. W. Griffith and made his screen debut in 1915. Despite not being conventionally handsome, he was athletic and charming, and very soon he became a big star, featuring in many romances and comedies. Fairbanks might have continued in this vein for many more years, but he got the idea to remake himself into an action film star. The Mark of Zorro, released in 1920, was a huge hit and took Fairbanks's career into a whole new direction. He spent the rest of the decade making one lavish, epic action film after another—Robin Hood, The Three Musketeers, The Thief of Baghdad, and The Black Pirate. His films were famous for their big sets and big budgets, as well as the intricate stunt work always performed by Fairbanks himself.
While he was remaking his career he was also romancing and marrying one of the few people who was a bigger star than him, Mary Pickford. Pickford and Fairbanks divorced their spouses and married each other in 1920. They became the Ur-Example of the Portmanteau Couple Name — or rather, their house did
. Fairbanks, Pickford, Griffith, and their good friend Charlie Chaplin founded United Artists in 1919 as an independent studio for themselves and for anyone else who wanted to work for themselves outside of the studio system.
As with many other stars of the era, the advent of talking films spelled the end of Fairbanks's career. He made one more silent swashbuckler, The Iron Mask, then gave up on both silent films and action movies. His first talkie, a 1929 adaptation of The Taming of the Shrew, was also the only film in which he co-starred with Pickford. They divorced soon after. Fairbanks made five talkies before declining popularity and rapidly declining health compelled him to retire in 1934.
His son by his first marriage, Douglas Fairbanks Jr., went on to his own very successful career as a Hollywood leading man.
---
Douglas Fairbanks films on TV Tropes:
---