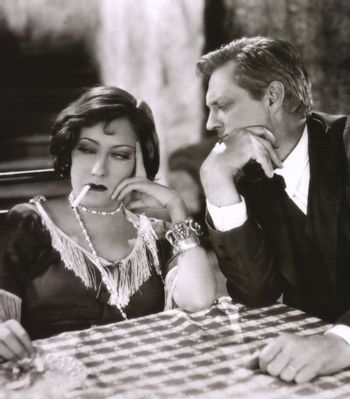 Sadie Thompson is a 1928 silent film directed by Raoul Walsh, starring Gloria Swanson, Lionel Barrymore & Walsh.
One day a ship arrives in Pago Pago, capital of American Samoa; among the passengers are Mr. and Mrs. Alfred Davidson, with Mr. Davidson (Lionel Barrymore) being a "reformer" who, has come to Samoa to bring Christian morality and stop what he sees as the immoral lifestyle and behavior of Pacific islanders.
Also aboard is Miss Sadie Thompson, a former prostitute from San Francisco who is looking for a new life and has a job waiting for her in Apia, the capital of independent Samoa. The ship's departure to Apia is delayed by a smallpox quarantine and while she waits Sadie starts to fall for Sgt. Timothy O'Hara (Walsh), a Marine who is stationed in Pago Pago.
Unfortunately for Sadie, she has drawn the attention of Davidson,who makes her the target of his reforming zeal, pressuring her into repenting and changing her fun-loving ways.
He figures out that she is fleeing from San Francisco police, and has the governor of American Samoa issue a warrant to send her back to San Francisco. A terrified Sadie, who loses the support of O'Hara when Davidson has him confined to quarters, cracks under pressure and "reforms". She puts away her makeup, her jazz records,and accepts her return to San Francisco and prison as an act of Christian repentance—but Davidson is feeling pressure of his own.
Sadie Thompson was based on a short story by W. Somerset Maugham called "Miss Thompson". It was one of the last commercial successes for Swanson, a star of the silent era who had a career rebound with Sunset Boulevard. Raoul Walsh had been directing for years, but this was his first acting role since 1915. It was also his last, as soon after that he was in a car accident that lost him his right eye.
In the early talkie era many silent films were remade, and so was Sadie Thompson. The 1932 remake, titled Rain, was directed by Lewis Milestone and starred Joan Crawford as Sadie and Walter Huston as Davidson. It is a nearly note-for-note copy of the 1928 film. Yet another remake, titled Miss Sadie Thompson and starring Rita Hayworth and José Ferrer, was released in 1953.
The last reel of Sadie Thompson has been lost due to deterioration of the negative. The Kino DVD release includes a "restoration" of the ending using still photos and original dialogue, and also includes as an extra the ending to Rain.
---
Tropes in this film: