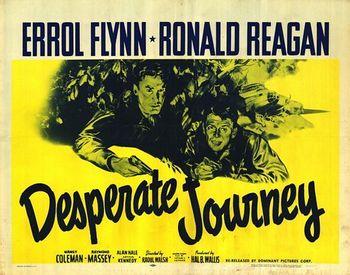 Desperate Journey is a 1942 film directed by Raoul Walsh, starring Errol Flynn and Ronald Reagan.
Flynn and Reagan are Lt. Terrence Forbes and Flying Officer Johnny Hammond, two RAF officers (despite being Australian and American) who are serving on a bomber. Their bomber is shot down during a perilous mission to take out a bridge on the pre-war border with Poland. Forbes, Hammond, and the other three members of their crew are captured, but they make a daring escape from the office of Gestapo Major Otto Baumeister (Raymond Massey). And if that isn't cool enough, before they leave they manage to filch from Baumeister's office some sensitive documents regarding the location of Messerschmidt fighter plane factories. The Squad then makes a, well, desperate journey across Nazi Germany, while Baumeister tries to apprehend them.
Desperate Journey is typical of the kind of wartime propaganda films that Inglorious Basterds satirized. It's still one of the best films Ronald Reagan ever made, however, and could have been the big break that Reagan needed to leap to the Hollywood A-list...but Reagan got called up to serve in the Army, and his career never regained momentum. Flynn for his part failed his army physical (heart murmur and tuberculosis in one lung) and thus wound up fighting the war onscreen.
---
Tropes: