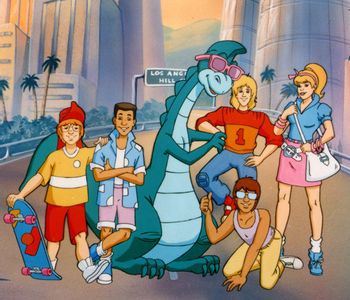 Denver the Last Dinosaur,
He's my friend and a whole lot more!
Denver the Last Dinosaur
Shows me a world I never saw before!
A French-American co-production, Denver the Last Dinosaur is an animated series from the 1980's (as if you needed to be told) about a group of Los Angeles teens that find the last dinosaur egg in existence and teach the hatchling, Denver, all about skateboarding, rocking out on guitar, and generally being totally radical. It lasted for 52 episodes and then was promptly forgotten, along with some of the other remnants of the late-80's / early 90's dinosaur mania. The little nostalgia for the series is mostly because of that kick-ass theme song. Fun fact: most of the cast consisted of Teenage Mutant Ninja Turtles voice actors (Cam Clarke, Rob Paulsen, Townsend Coleman, even Adam Carl who voiced Donatello in the second live action film) which just adds to the late 1980s period piece feel as these actors arguably did the totally radical angle better than anyone else.
Zagtoon produced a reboot of the show as Denver & Cliff.
---
Tropes found in this show:
---