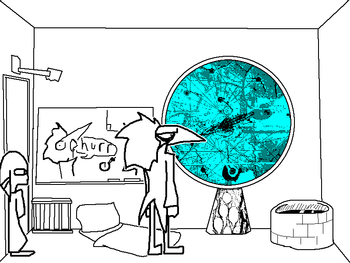 When I was very young, I asked my mother what I would have grown up to be, if I were not the Prince.
She told me, "Muschio. Whatever you desire, that you shall have tenfold. If you want to be a soldier, you will become a general. If you want to be a monk, you shall become pope."
I wanted to be a villain.
And I do not intend to stop until I have become the Devil.
An imageboard-based RPG styled as a text adventure, similar in style and pace to Ruby Quest (which was the genre codifier of imageboard RPGs, if not the original). Both were created and run by a man (or little brown girl?) who goes by the name "Weaver".
It starts off with a Volto ex-prince named Muschio Malto going on a "dive" in Red Fang's Dungeon. He ultimately succeeds in killing him and claiming Fang's dungeon for himself, using it as his base of operations as he strives to complete his goal of becoming the greatest villain the world has ever known.
The chapters can be easily accessed here
. It shares a universe with Knight Blades.
There is also a flash version in progress, which can be found here
.
The same artist that made the Ruby Quest Fan Soundtrack is working on Dive Quest too
.
---
This game provides examples of:
The Big Guy: Dompag, who's an ogre or something. Can hit people real hard and eat lava.
Black Comedy Rape: Ona's anxieties and delusions contain this.
Lampshade Hanging:

Who on earth would put any manner key inside a can and seal it? What sense does that possibly stand to make?

Lava Adds Awesome: We haven't seen it yet—well, he has eaten fire—but Dompag claims to be able to eat lava.
Little Brother Worship Geppa, aka Gray Fang, adores her honorary little brother Dompag to no end.
Villain Protagonist: All of the main characters, but Muschio really stands out. This is a guy who accidentally burned a city to the ground and was very pleased about it.
Yandere: Finesse has some shades of this, what with

faking a disease to get Muschio to have sex with her and trying to slip him an aphrodisiac. Of course that second one backfired horribly . . .

She seems to have pulled back a bit after the

accidental poisoning.

Your Head A-Splode: Muschio throws an explosive potion at a monster. Guess what happens.
---