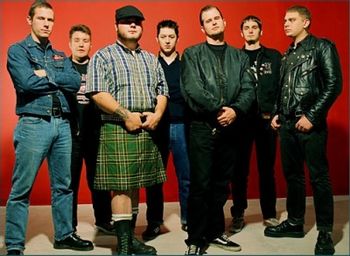 Influences:
The Dropkick Murphys are a well known Celtic Punk band from Quincy, Massachusetts, named after a rehab center near where the first members grew up (which itself was named after the former wrestler who founded it). They have released eight studio albums since their founding, gaining a fair amount of popularity for their song "I'm Shipping Up To Boston", which was featured in the 2006 film
The Departed
- as well as
many
other sources. This is interesting, as the lyrics were originally by
Woody Guthrie
, he just never finished it before he died (it wasn't the first time the band had covered an unrecorded Guthrie song, either. They covered his "Gonna Be A Blackout Tonight" on their 2003 album
Blackout
)
Considered to be the semi-official band of baseball's Boston Red Sox, the band's 2004 song "Tessie" (which is not a cover of the turn-of-the-century Red Sox fight song of the same name as often claimed, but a newly written song about those same turn-of-the-century fans, with the original fight song making up most of the chorus) is often played on Boston radio before Red Sox games as "good luck", especially during the team's 2004 season in which they won their first World Series in 86 years. In 2007 "I'm Shipping Up to Boston" became yet another unofficial anthem for the Red Sox in the run up to their next World Series victory. The band has performed during the team's "Rolling Rally" parade through Boston twice (in 2007 and 2013) and many current Red Sox players consider themselves fans of the band.
Naturally, as a Celtic Punk group, a fair amount of their music/political causes center around the working class and pay homage to their ancestry. As such, they have covered several Irish folk songs - particularly on the album "The Meanest of Times".
Their discography consists of:
Do or Die (1998)
The Gang's All Here (1999)
Sing Loud, Sing Proud! (2001)
Blackout (2003)
The Warrior's Code (2005)
The Meanest of Times (2007)
Going Out In Style (2011)
Signed and Sealed in Blood (2013)
11 Short Stories of Pain and Glory (2017)
Turn Up That Dial (2021)
This Machine Still Kills Fascists (2022)
---
Dropkick Murphys provide examples of:
---