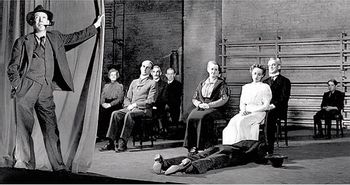 "Oh, Earth, you're just too wonderful for anyone to realize you!"
— Emily
Emily: Do any human beings ever realize life while they live it?
Stage Manager: No - saints and poets maybe - they do some.
Our Town is a three act play written by Thornton Wilder in 1938, set in the fictional community of Grover's Corners, New Hampshire.
Through the actions of the Stage Manager, the town of Grover's Corners is created for the audience and scenes from its history between the years of 1901 and 1913 play out. There is minimal scenery, and nearly all of the props are pantomimed.
Our Town follows a few of the major characters through the important days of their lives. The first act, "A Day in the Life," introduces George Gibbs and Emily Webb, their families, and several other Grover's Corners inhabitants as they go through a typical day in their lives. The second act, "Love and Marriage," illustrates George and Emily's budding romance and eventual marriage. The third act, "Death," plays through a funeral.
Winner of the Pulitzer Prize for 1938. It was made into a motion picture in 1940, which was directed by Sam Wood, starred a young William Holden as George, and was adapted by Thornton Wilder from his own play. Frank Craven and Martha Scott reprised their roles from the original Broadway production as the Stage Manager and Emily, respectively; Thomas Mitchell played Dr. Gibbs. None other than Aaron Copland himself composed the music. It received six Academy Award nominations, including one for Best Picture.
The second-most common School Play on television, behind Romeo and Juliet.
---
This play provides examples of:
---
Tropes particular to the 1940 film:
---