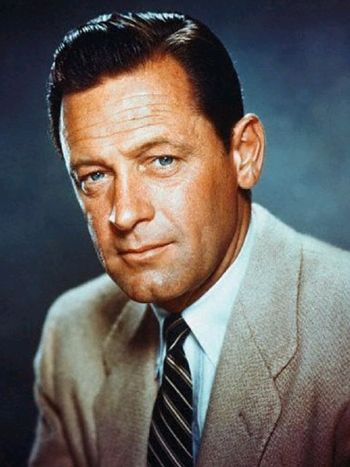 "For me, acting is not an all-consuming thing, except for the moment when I'm actually doing it."
William Holden (born William Franklin Beedle Jr.; April 17, 1918 – November 12, 1981) was an American actor, and one of the biggest movie stars in Hollywood in the 1950s and 1960s.
He was born in O'Fallon, Illinois, but his family moved to South Pasadena, CA when he was three. He was discovered by a talent scout while acting in a high school play. He made his starring film debut in 1939 with Golden Boy, which he followed the next year by playing George in the film adaptation of Our Town, but World War II put his movie career on hold for a while. In 1950 he received his biggest break when he got a starring role in Billy Wilder's Sunset Boulevard. Holden scored hit after hit throughout the decade, winning an Academy Award for his role in Wilder's Stalag 17. His role in Stalag 17 was typical of the cynical, world-weary, but basically honorable characters he played for most of his film career. He played in his share of romances and comedies, including Sabrina, which led to Romance on the Set with Audrey Hepburn. He was also good friends with fellow actor and eventual President Ronald Reagan, serving as the best man at Reagan's wedding to Nancy Davis.
Holden had a drinking problem which worsened into severe alcoholism in the 1960s, damaging his career. He enjoyed a comeback in the late 1960s and the 1970s, appearing in hits like The Wild Bunch, The Towering Inferno, and Network, but the drinking did not get better. Holden died in 1981 when he fell and hit his head in his bedroom while intoxicated. The line in Suzanne Vega's song "Tom's Diner" about "an actor who had died when he was drinking" is a reference to William Holden.
---
William Holden films on TV Tropes: