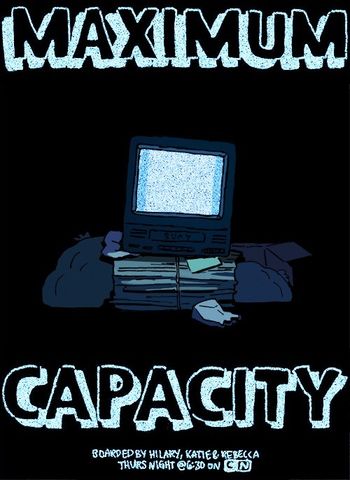 It's almost New Year's Eve. Steven and Greg are looking forward to the Beach City fireworks display put on by Mayor Dewey, Steven chattering excitedly about what he likes best. But it's still a day away, and the two of them are headed for Greg's storage unit to put away his way-out-of-date Summer Wax standing sign from the car wash.
When they get there, though, the storage unit is packed to overflowing. There is literally not enough room for one more thing. Steven and Greg decide the unit needs to be cleaned out. Steven says one of the Gems should help, and takes off to go get her. He returns — with Amethyst. By Steven's logic, Amethyst has seen lots of messes and they don't freak her out, so she should be the one to help. Greg says he was expecting Steven to bring Pearl. They briefly squabble over the KEEP, SELL, BURN boxes and whether they should be burning anything at all. Greg bequeaths a box of books to Steven, pleased and surprised that "books are cool again". Steven agrees they are, especially in light of his having been grounded from watching television for 1,000 years — which Greg had not taken seriously and had pretty much forgotten altogether.
As they dig deeper into the mess, Greg finds the picture of himself and Rose, the frame of which was broken during the hunt for Rose's laser light cannon, and is briefly melancholic — until Amethyst finds a bunch of old VHS tapes of their favorite old show, Li'l Butler — about a little kid who happens to look and behave like an elderly, seasoned, English butler. Greg cheerfully reminisces good times watching the show with Amethyst while Steven was very small. Steven, dutifully honoring his having been grounded the night of the dinner party, refuses to watch even though Greg and Amethyst are willing to let him off the hook.
Greg and Amethyst get absorbed in the show entirely, disregarding the cleaning of the storage unit. When Greg realizes how late it's become, he tells Steven to go home and they'll pick up in the morning. Steven stops off at Fryman's for a double order of hash browns. He and Peedee briefly discuss the practicalities of starting a new year on the right note. When Steven arrives at the unit, his father asks why he's come back so late. Steven points out it's morning. Greg and Amethyst blink over this for all of a second, then take the hash browns as snacks, and Greg promises to show up for the New Year's Eve fireworks.
That evening, Steven has taught Garnet and Pearl how to dress for the weather, and how making noise with pots and pans is part of the tradition. Pearl is briefly surprised that Amethyst and Greg are hanging out together watching "that dumb show". Garnet scoffs, and for a moment they try to remember what caused Greg and Amethyst to quit hanging out, but they give up trying to recall after a short time. Midnight comes and with it a new year, as fireworks start to fill the sky, but Greg is nowhere to be seen. Pearl bangs her noisemakers very quietly in celebration. Garnet bangs hers thunderously. Steven returns to the storage unit to get his father.
Thanks to a momentary pause while the VHS rewinds, Greg realizes that he's missing the fireworks and gets up to stop watching, but Amethyst tries to cajole him into watching more, even pointing out the two-part Hawaii special is next in the lineup. Greg says he wants to be with his son and see the fireworks. Amethyst mockingly shapeshifts into Steven and imitates what his excited reaction would be to the fireworks and tries to manipulate him to stay. Greg quietly reminds her:
"You know how I feel about shapeshifting."
Amethyst and Greg's conversation escalates, Amethyst mockingly shapeshifting into Greg and sidling up to him faux-flirtatiously. Greg acknowledges that he knows Amethyst enjoys making him uncomfortable; he says he can't humor her anymore because he needs to be there for his son. Amethyst snaps that she used to have someone who was there for her all the time, until Greg stole that person from her. Greg tries to stop the discussion, saying that they already had this fight before. Amethyst taunts Greg that he would stay if she was "her"... and she shapeshifts again, this time into a purple version of Rose Quartz! Greg, expecting this, and by his expression, dreading it — turns away from her and asks her to stop. He says he wants to be friends again, but he can't let her do this to him again. As Amethyst begins to press the issue, Steven interrupts.
A little shocked but firm, Steven says that he understands their feelings: it's hard to stop clinging to the past but they both need to let it go... because the storage unit is full.
Steven: Seriously, when did you even have a cat!?
Amethyst shamefacedly returns to her normal shape and runs off. Greg and Steven don't stop her, as Greg turns off the TV, putting an end to his vice.
The next morning, Greg and Steven return to have another go at the storage unit, only to find it completely cleared out. Pearl and Garnet are just finishing up. Greg asks if it was Pearl's idea, but Pearl says it was Amethyst's. The purple Gem kind of avoids Greg's gaze, before she finally explains that they put all the stuff from the storage unit in the temple, in her room, where it will go unnoticed as part of her larger mess. She has one box left marked KEEP, which she hands to Greg.
In it is the picture of him and Rose, in a new frame. The episode then ends with Greg closing the door to the now empty storage unit, now with his heart a little lighter.
---
Tropes:
---