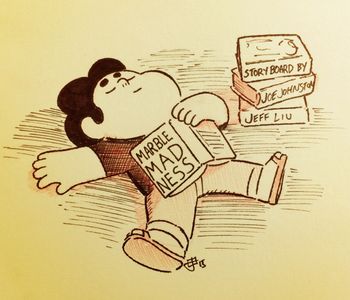 Connie and Steven are sitting on the beach outside the temple as the episode begins. She is excitedly telling Steven about her favorite book series that she clearly loves and has great enthusiasm for — The Unfamiliar Familiar. She gives Steven a brief rundown on what it's about and begins to read the opening chapter. As she describes a rumble in the book, there seems to be a rumble around them. The kids look bewildered for a moment, then go back to the book... until something falls from the sky, and splashes them with seawater.
The Crystal Gems burst from the house as an extra large version of the orb-shaped robonoid robots they have been encountering for a while emerges from the sea. They quickly attack and destroy it, though Pearl is obviously alarmed at the size because it's the biggest one they've ever seen. Steven asks what the Gems believe it was here to do.
Garnet: We destroyed it. That's all that matters.
The scene jumps ahead to Connie's house. Connie's mom gives her the phone, and she begins discussing the books with Steven. Steven confesses to being confused, and as he and Connie talk, it is revealed he's been reading the books out of order because Steven started reading them in order of how cool he found the covers. There's another boom, and the Gems identify the destination of the next giant robonoid: Mask Island. They warp there, concerned the robonoid is looking for a Warp, and destroy that marble bot. Steven asks again what the Gems think it's here to do.
Garnet: It's not going to do anything, now.
The Gems become increasingly frustrated at repeatedly fighting and destroying the big robonoids. Another conversation about the books, to Connie's increasing frustration, is interrupted by the Gems racing off to pursue another marble robot, the fifth of the week. Steven is a step behind them this time, and arrives to see them fighting it in the desert. The Gems are frustrated by how many of these things that keep coming. Steven asks how many more they'll have to fight, and Pearl bursts out in frustration, admitting they don't know, and that they keep coming. Steven tries to console the Gems by telling them he doesn't know things either but he has people to tell him, like them, Connie and his dad. The Gems in turn remind Steven that nobody knows what the bot is here to do. Steven speculates that the robonoid itself does, and suggests following it to see what it's here to do. After a moment of consideration, Garnet agrees.
Steven and the Gems ride the bot as it finds a warp, which then leads them back to The Kindergarten. Pearl is immediately ready to destroy the bot, convinced it's up to no good if it came to this place. Garnet, after a moment of consideration, says they'll continue to do Steven's way and see where the robot goes. The robot forms a pyramid elevator and finds a control panel deep underground, finally establishing a contact with Peridot.
The Gems immediately seek a hiding place and begin speculating on what Peridot wants, voicing their concerns about what will happen if she reactivates the Kindergarten.
Pearl: Doesn't she know they'll destroy all life on Earth?!
As the Gems discuss what they plan to do to destroy the power source, Steven goes up to the control room and strikes up a conversation with Peridot, who at first mistakes him for an infesting vermin. Peridot asks if "Stevens" have replaced humans. Steven points out there are plenty more humans (though he isn't entirely sure if Onion qualifies or not), and says it's his turn to ask her what she's doing here. Peridot casually forms one of her remote hands into a fist and raises it above Steven.
Peridot: Oh, just picking up where we left off.
The Gems leap into action to protect Steven! Peridot is astonished. She thought all the Gems were wiped out on earth, and says as much. She realizes that the Red Eye never reported back to her because these Gems destroyed it. They have also destroyed every other thing she has sent to check out Gem presence on Earth. She demands to know why they keep destroying her things!
Pearl: Because we are the Crystal Gems! We are still alive! And we are still the guardians of this planet, and all of its living creatures!
Peridot, incensed, says she's going to report this, before the Gems destroy first her screen and then the Kindergarten control room's power source.
Steven sheepishly admits he may have gone too far. Garnet allows that they did learn a lot of new information as the result of his decisions—but it was still a pretty bad idea.
---
Tropes:
---