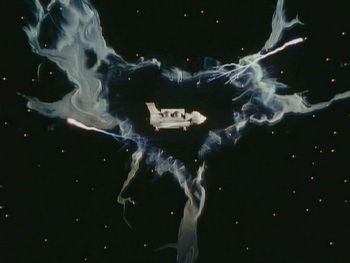 "The Age of Man is over. The Age of the Virus has begun!"
— The Nucleus
The One With… a killer shrimp. Also, we meet a beloved tin dog.
Written by Bob Baker and Dave Martin. This four-episode serial first aired October 1—22, 1977.
---
A virus lurking in deep space infects the crew of an earth shuttle on its way to Titan. The infected humans kill the crew they are supposed to be relieving, except for one man, Lowe, whom they infect. They begin preparing the base for breeding. Meanwhile, the TARDIS has been invaded by the same virus, and the Doctor becomes the host for the Nucleus of the Swarm. After he attempts to kill "The Reject" Leela (who is immune), the Doctor realizes what's happening and puts himself into a self-induced coma to keep from being taken over completely. Leela, accompanied by Lowe, rushes him to the Bi-Al Foundation hospital asteroid using the TARDIS, where she hopes Professor Marius will be able to find a cure.
Professor Marius, a kind old genius, immediately realizes what's been going on. While Leela goes off to fight her attackers with the help of Marius' robot dog, K-9, the (still rapidly dying) Doctor asks Marius to make temporary clones of him and Leela. Lowe infects as many of the hospital staff as possible, and the cloned Doctor and Leela are shrunk down for a "Fantastic Voyage" Plot to try and destroy the virus by attacking it inside the Doctor's brain.
The short-lifespan clones expire before they can defeat the virus, but they drive the Nucleus out of the Doctor's brain, where it is expanded to human size. Lowe takes it back to Titan, to begin the breeding of a new giant shrimp virus super race, while Leela's decomposing clone corpse inside his brain gives the Doctor immunity to the virus. With the help of Professor Marius and K-9, the Doctor is able to isolate the immunity and synthesize a cure.
While Professor Marius treats the infected hospital staff, the travellers take the weaponized cure (and K-9) and head to Titan to finish off the virus. Leela knifes some people in the neck and keeps suggesting that the Doctor should just blow up the entire moon. He gives a grand spiel of not wanting to kill anyone, but eventually relents and blows up Titan. Professor Marius returns to Earth and gives K-9 to the Doctor as a souvenir.
---
Tropes:
---