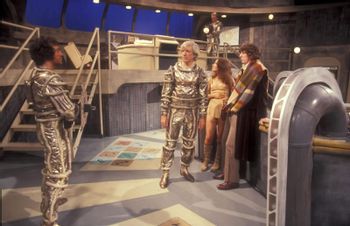 "The Quest is the Quest!"
— Various Minyans
Production code: 4Y
The One With… lots of greenscreening.
The end result of the former showrunner Philip Hinchcliffe getting even with the higher-ups in retaliation for being kicked out of the saddle by devouring the show's budget last season, Underworld is perhaps the most infamous case of No Budget on the classic series. Without the funds to create sets, most of the scenes portrayed in it are almost entirely reliant on Green Screen effects. The end result? What remains today one of the most hysterically shoestring stories of the original run.
Written by Bob Baker and Dave Martin. This four-episode serial first aired from January 7 to 28, 1978.
---
The TARDIS lands on a spaceship, the R1C, commanded by a man named Jackson. He and his Minyan crew are on a quest to recover their "race banks" from another ship, the P7E, which left a hundred thousand years ago to form a new colony. The Time Lords, who are seen as Gods by the Minyans, shared a form of regeneration with them but left when the Minyans turned on them. Jackson's quite surprised to see a God suddenly standing in the middle of his spaceship, but the team doesn't have time to be surprised, as the R1C is buried by a meteor storm. Rocks gather around the spaceship's gravitational field, instantly forming the beginnings of a planet. The Doctor helps them escape, and they crash into another small planet just as the serial's budget runs out.
Investigating the planet, the Doctor and Leela are awkwardly projected onto a model background and find a system of caves that leads to the P7E, long ago buried by asteroids. The P7E's computer, Oracle, has gone insane and rules over the survivors of the Minyan crew with the aid of the robotic Seers. It allows Jackson to take the race banks, but the Doctor realises that they are just fakes, primed with fission grenades. The Doctor herds the P7E's descendants into the R1C and gives Jackson a rather grand What the Hell, Hero? speech for considering the quest more important than the actual people the quest was all about. After that, Four tricks Oracle into allowing him to take the real race banks, meanwhile returning the fakes via the Seers. The resulting explosion destroys the P7E and propels the R1C off on its voyage to Minyos II with the P7E's survivors.
Tropes
---