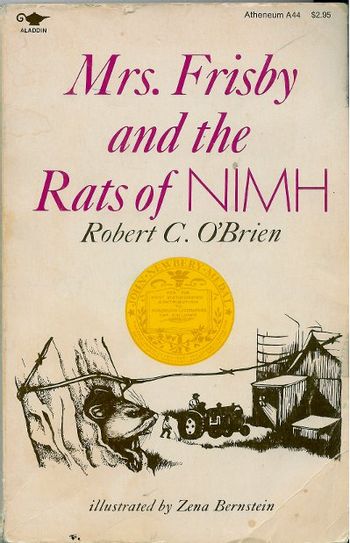 "You must go, Mrs. Frisby, to the rats under the rosebush. They are not, I think, like other rats."
— The Owl
This page is about the book Mrs. Frisby and the Rats of NIMH. If you are looking for the article about the animated film, see The Secret of NIMH.
A 1971 novel by Robert C. O'Brien about lab rats that gained human intelligence through a series of top secret government experiments.
The protagonist of the story, Mrs. Frisby, is a fairly intelligent, but otherwise ordinary field mouse. Mrs. Frisby seeks a way to keep her sick son, Timothy, alive during the spring plowing. He is too weak to move to their summer home without risking his death, but staying would mean certain death because their winter home lies directly in the path of the farmer's tractor. In order to ensure her son's survival, Mrs. Frisby seeks the help of the elusive uplifted rats of NIMH (National Institute of Mental Health).
The first and last third of the book are told from the (third person limited) perspective of Mrs. Frisby while the middle third is a long flashback, narrated by Nicodemus. The sections of the book focusing on Mrs. Frisby are concrete and down-to-earth: the humble realities of a humble creature trying to save her family. The animals in that section are anthropomorphized quite a bit and all of them are rather intelligent, even without being uplifted. Nicodemus's chapters are quite different in tone, almost to the point of Mood Whiplash. His chapters deal with their escape from NIMH and his intellectual journey afterward, and the animals in this chapter are less human than those of Mrs. Frisby's. If read separately you would be forgiven for thinking it was from a different story. The NIMH chapters examine animal intelligence, the psychological differences and similarities between humans and rats, The Scientific Method, and the philosophical ramifications of stealing.
It was written in 1971 and made into a very loosely adapted animated feature-length film called The Secret of NIMH by celebrated director Don Bluth. After O'Brien's death, there were a couple of semi-official sequels written by his daughter, Jane Leslie Conly — Racso and the Rats of NIMH (1986) and R-T, Margaret, and the Rats of NIMH (1990).
---
Tropes:
---