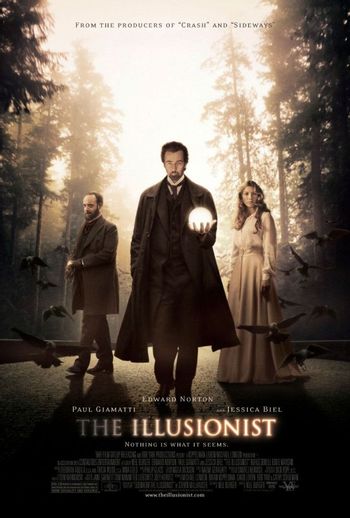 "Nothing is what it seems."
A 2006 Period Drama loosely based on Steven Millhauser's story "Eisenheim The Illusionist", starring Edward Norton, Paul Giamatti, Jessica Biel and Rufus Sewell.
The Illusionist revolves around a report delivered mostly in flashback by Uhl (Giamatti), a police inspector in late nineteenth century Vienna assigned to investigate Eisenheim (Norton), a magician who has caused uproar due to his apparent ability to summon and communicate with the souls of the dead. This by itself would be enough to get their attention, but the matter is further complicated by Eisenheim's personal motives; for many years he has been in love with a girl he met as a child, to whom he made a promise to rescue her from her unhappy life and disappear with her to start anew. Which would be fair enough, if it wasn't for the fact that the girl is now Sophia, Duchess of von Teschen (Biel) and the fiancee of the cruel and dominating Crown Prince of Austro-Hungary (Sewell). This leads Uhl to a case revolving around murder, treason and jealousy where nothing is as it seems and nothing can be trusted — not even the evidence of his own eyes...
No relation to the 2010 animated film.
---
This film provides examples of:
---