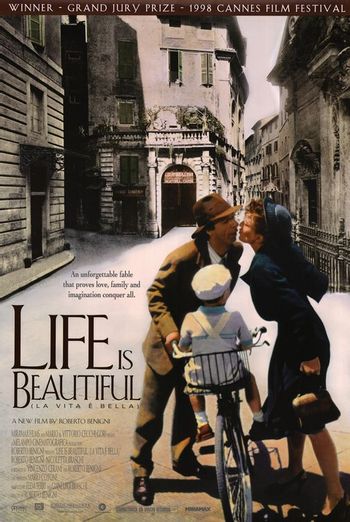 Life Is Beautiful (or La vita è bella in the original Italian) is a 1997 Italian tragicomedy film about The Holocaust. Starring Roberto Benigni (who also wrote and directed it), the film won three Academy Awards: Best Original Dramatic Score, Best Foreign Language Film and Best Actor. Benigni went down in notoriety for the middle one, being so excited by his win that he climbed over the seats of the Academy members in front of him and bunny-hopped up to the stage to claim his award. (See it here. That's Sophia Loren presenting.
)
The first half of the film contains elements of the Romantic Comedy, featuring a young Italian Jew named Guido Orefice planning to set up his own bookstore, working as a waiter, and trying his best to romance Dora (Nicoletta Braschi), a young Christian schoolteacher who comes from a much richer family, while living with his uncle. Several years pass, and the two have a son, but become estranged from the rich relatives: however, they begin to reconcile.
Nevertheless, the second half of the film takes a turn for the dark: Guido, his uncle Eliseo and his son Giosuè are taken to a concentration camp. His wife chooses to be deported with her family but is separated at a different part of the camp. Giosuè is hidden from the Nazis and Guido tries his very best to keep the actual darkness of the camp from his son.
---
Life Is Beautiful provides examples of:
---