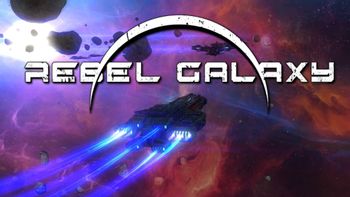 Described as
Elite
meets
Firefly
,
Rebel Galaxy
is a space sim that came out on October 20th, 2015. It was developed and published by two-person indy studio Double Damage Games.
You start out in a lawless frontier called "The Rift" full of all kinds of smugglers, pirates, and all other sorts of scum and villainy. The initial quest line is something about finding your "trader" aunt Juno who left you an obsolete corvette called the Rasputin, but there's a whole randomly generated universe to explore and blow up. However, your quest to find your aunt quickly spirals into something much more as you stumble into a galaxy-wide conspiracy centered around an alien device known as the "Specter".
Initially released for PC and Mac from Steam and GOG.com, it was later ported to Xbox One and PlayStation 4.
An action-oriented prequel, Rebel Galaxy Outlaw, got released on PC in August 2019, and Playstation 4, Xbox One and Nintendo Switch in September, 2020.
---
This game contains examples of the following tropes:
---