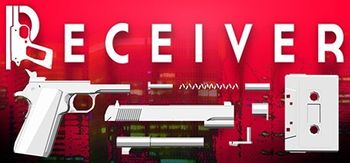 Receiver was created for the 7-day FPS challenge to explore gun handling mechanics, randomized levels, and unordered storytelling. Armed only with a Colt 1911 A1 and an audiocassette player, you must uncover the secrets of the Mindkill in a building complex infested with automated turrets and hovering shock drones.
— Official product description
In Receiver
, you have a gun.
Let's clarify for a moment. In Receiver, you actually have a gun. If it has a safety, you can toggle it. If it has an external hammer, you can cock or un-cock it. If it has a slide, you can pull, lock, and release it. If it has a magazine, you can remove it, and if it has a cylinder, you can swing it out — and you will, because it doesn't have a telepathic link to tell you how many bullets are in it, and reloading is strictly by hand with individual loose bullets.
You, and your gun, have to navigate a procedurally-generated urban maze full of stationary turrets and flying kill drones to find 11 cassette tapes and learn what's really going on. Good luck.
Note: The RC6 update
in September 2012 added, first, a flashlight (notably neither Ten Second nor Infinite — the batteries run dead after at most a few hours use, depending on how much charge it had when you find it), and second, two new guns accompanying the original Colt 1911 A1
: a Smith & Wesson Model 10 revolver
and a Glock 17 pistol
modified with an FSS-G fire-selector.
Note 2: A tutorial on manipulating the guns in Receiver may be found on the analysis page.
Note 3: The full version of the game was released on Steam on April 29th, 2013 here
; those who purchased it from the developers through their Humble Store link can get a Steam key from that site.
Note 4: A sequel was announced on December 13, 2019. See the trailer here
.
---
Tropes present in this game:
---