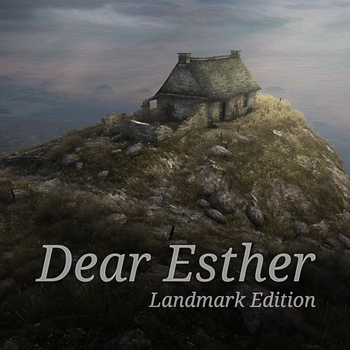 "If the subject matter is obscure, the writer's literary style is even more so, it is not the text of a stable or trustworthy reporter."
For the proper reading experience, play the game's soundtrack
while reading on.
Dear Esther is a mod created by The Chinese Room, built with the Source engine (the same used for Half-Life 2, among other games). While designed in the First-Person Shooter format, it is in reality more of a sparse, linear narrative with complete emphasis on the plot, and as such is probably the Trope Codifier for Environmental Narrative Games. The player is placed on an uninhabited, Hebridean island, and while exploring the picturesque landscape an unidentified narrator regularly intervenes with bits of voiced-over letters addressed to a woman named Esther. This is a story that you quite literally walk through: nothing is trying to kill you, and there are no puzzles that you must solve to progress. Unless, of course, you count the plot.
A remake was released in 2012 featuring vastly improved graphics, remastered audio, and a much more intuitive level design for the environments (one common criticism of the original mod); a further improved Landmark Edition was released on the original game's 10-year anniversary in 2017.
The 2012 version on Steam
; the 2017 version on Steam
; a download to the original version
; and the official website.
WARNING: Due to the nature of its narrative, it is all but impossible to describe the tropes in Dear Esther without spoiling the crap out of it. If you have not experienced it yet, do not read any further.
---
This game provides examples of:
---