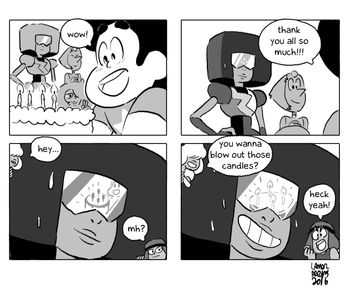 It's the morning of Steven's birthday, and despite having stayed up the previous night with Garnet, listening to her story about how Ruby and Sapphire met, Steven seems wide awake and full of energy. The Crystal Gems are gathered around the picnic table, all except for Peridot, who is still working on the drill. They ask her if she'd like to take a break and join them. She replies by clicking her welding goggles into place over her eyes and walking off without another word.
Amethyst helps Steven hang his birthday banner over the barn door, since there's no ladder for him to do so, stretching her arms and legs long to do so. He waffles a bit over the banner until she tells him she can't stay stretched out like this all day. He says the banner is fine. She hangs it and returns to her regular size.
Before long, Greg arrives in the Universe van (its door finally repaired), and Connie in the passenger seat. After the two young friends greet each other enthusiastically, Steven says he's so pleased Connie could join them for his birthday. Connie remarks that her parents only permitted it after packing Greg's van with every piece of safety equipment in the state — including a defibrillator.
As they begin to discuss that Steven is 14, Connie is surprised that he's older than she is, since she's taller and he's shorter. Greg shows all of Steven's birthdays from an album:
Greg: Baby. Toddler. Um, Whaddayacallit ... adolescent? Adolescent. Adolescent. Adolescent. You stagnated for a while there.
Steven seems thoughtful about this. But before he can say or do anything about it, Connie asks Greg to go back to the van so she can show him how to use the defibrillator. They have a quick conversation about Steven, unaware that he's followed them and is eavesdropping from behind the van's doors. They share their "Human Beings" Secret Handshake before returning to the party.
The family shuts Steven in the barn so they can surprise him with his cake. As the barn door closes, the sunlight is closed out, leaving Steven in complete darkness. When they tell him he can come out again, they all gasp in shock as Steven walks out of the barn, now at least six inches taller — his pants come only as far as his mid-shins, and his T-shirt only reaches to just above his belly gem. His voice is even deeper! The present Connie gave him, a pink shirt, won't even close now. He has to wear it unbuttoned to wear it at all.
Steven: I just had a magical growth spurt! ... Just now.
The family reacts with varying degrees of shock or astonishment, but Garnet reacts with typical encouraging positivity. The party goes on as planned, for the most part. The toy they were playing with gets stuck in a tree, but Steven yanks down a branch so Connie can climb after it. To his dismay, his arm shrinks back to pre-magical-growth-spurt size, but he soon wills it back to match the rest of him. As the day goes on, Garnet and Greg pick out some music, and after some lively dancing, Garnet puts on a slow jam for Steven and Connie to dance. Connie snuggles into Steven's shoulder and closes her eyes. Steven, looking uncharacteristically sweaty, excuses himself to go freshen up. He runs around a corner of the barn and springs back to the size he has been all along.
Steven: [panting with effort] All I have to do is keep this up for the rest of my life and no one will suspect a thin—
But Greg and Amethyst are behind the barn, play testing his piñata, and are shocked to realize that Steven hasn't really grown — he's been using his shape-shifting powers to stretch himself out and make himself taller, the way Amethyst did when hanging the barn banner. Amethyst warns Steven that it's not healthy or normal to stretch a gem body form like that and that he could really hurt himself that way. But Steven is really very upset at the idea that he's not aging like a human kid.
Steven: When Connie grows up and becomes President, what's that gonna make me?! First boy?!
Connie and Steven end up sitting together on a blanket, and Connie tells Steven she's really glad they're going to grow up together. Steven gives a stilted look, then vanishes into his clothing! Connie goes searching for him, and he has turned back into a baby! Amethyst regretfully repeats that she warned him about overexerting his shape-shifting, then tries to hand him off to Pearl, who has no interest whatsoever in holding tiny baby Steven. Garnet is willing to take him, and makes faces at him, but he cannot be jollied.
Garnet: My power means nothing to an infant.
Greg, who raised baby Steven when he was a baby for real, the first time, says he can handle this. A moment later, Greg is at the wheel of the van. Baby Steven is in a car seat, and Connie is in the passenger seat. But baby Steven is still crying uncontrollably. Greg is flummoxed, because when Steven was a baby before, a drive always calmed him down. He offers to take Connie home until they sort through this confusing half-Gem issue, but Connie says she wants to stay. She takes baby Steven's hand and tells him that Greg still has to run his car wash, and she'll watch him then. She'll come visit him when she's done training with Pearl. And she'll spend time with him and be happy to be with him no matter what his size or apparent age is, and they'll have fun no matter what. Baby Steven stops crying. Greg has only a moment to note that with relief before Amethyst, who'd shape-shifted into the car seat, notes that baby Steven needs changing.
The next morning, Connie wakens and the shirt baby Steven was wearing is completely empty! She picks it up and shakes it out, fearing Steven is microscopically small (she went so far as to fear that he had reverted back to a zygote)! Connie flies out of the tent in a panic, calling for everyone, but Steven is standing outside, wearing the shirt she gifted him, and he's back to his "usual" size. He sheepishly apologizes to her, saying he wanted to look older for her. She assures him she's okay that he may not age like a human, and as Connie does so, she notices that Steven has a facial hair.
Greg cheerily points out that means he is growing up. Amethyst teases him. But Steven is happy to have a sign that he is aging like a human.
---
Tropes:
---