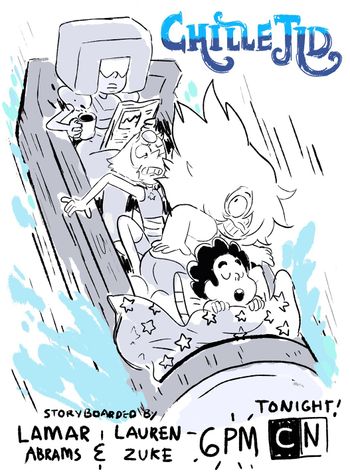 Original airdate: June 19th, 2015
Production code: 1031-063
---
It's evening — Pearl and Amethyst are sitting together on an inflatable raft out at sea so far that land isn't visible. Amethyst is dangling Steven under the water upside-down by his ankles. She's bored and has forgotten if one wiggle or two means she should pull Steven up. Pearl is antsy and unhappy, feeling like they've spent too much time out on the water, and complains of the "life diapers" they all must wear.
Garnet surfaces with Steven, who chokes and flops like a landed fish. The reason they're all out there is that they're looking for Malachite — that is, to say — Lapis Lazuli and Jasper. Garnet describes their fusion as very dangerous because it's a bond built on anger and mistrust.
Garnet: If that bond snaps, that anger will grow out of control ... and destroy.
They are about to start looking again when it becomes obvious that poor Steven is completely exhausted and needs some rest. He's literally falling asleep on his feet, but trying to throw himself into the sea to keep looking.The Gems return home with Steven, who suggests they all could use some rest because they look terrible. The stress of having found Peridot and the horror of the Kindergarten's experiments, plus the hunt for Malachite, has taken its toll, though Garnet denies it.
Steven: You look exhausted!
Garnet: We look awesome.
Steven suggests a slumber party and offers them plush toys to snuggle with. Amethyst and Pearl both decline. Garnet tells them to relax, sleep well, and that there are snacks in the fridge. She goes off on her own, warping out to search the ocean for Lapis and Jasper. Amethyst dozes off at once, but Pearl has a harder time grasping the concept of sleeping.
Steven tries to explain it to her and dozes off in the middle of his explanation, drifting into a dream...
...in which the front room of his house is a sound stage, Pearl is a substitute mom, Amethyst is a rowdy kid, and Garnet is a two-eyed cool person next door. He's in an old black and white situation comedy! He's preparing for a date: going with Connie to The Big Dance. But when he opens the door expecting Connie, who should be there instead but Lapis Lazuli, suddenly in full color — weeping and vomiting seawater, filling the house.
Steven is jarred awake, and takes another moment to explain to Pearl what dreams are. He soon drifts off to sleep again, having a new dream ...
... wherein he is flying with a helicopter rotor in his back. Dogcopter is flying beside him. Steven is delighted and professes his fandom. Dogcopter, unimpressed, meows at him and takes off. Pearl's giant head engulfs Steven, then spits him out, upgraded from helicopter to rockets, he encounters Amethyst riding a whale. But before long, he's surrounded in blue. Lapis is there once again, demanding that Steven leaves her alone, because she has to concentrate!
Steven wakes again because Amethyst is laughing. She awoke to find Pearl had drifted off to sleep, and was having a dream about surfing on a giant slice of pizza with Rose Quartz, only to have Rose suddenly turn into Greg. The dream is projected from Pearl's gem onto the ceiling, so Amethyst and Steven can see it. Steven mentions he saw Lapis in his dream again and that she could maybe tell him their location. Pearl, awakened but trying to hide her reaction to her dream, posits that perhaps they're communicating on the dreamscape. Steven says that to fall asleep again he wants Pearl to describe her dream. Pearl is reticent, but Amethyst insists it's for the greater good. Steven has already dozed off on his own by the time Pearl is convinced to try.
The third dream is Steven sort of lucid dreaming, floating his way through blackness until he finds Lapis Lazuli. She insists she doesn't need or want his help — and tells him he has to go because she cannot be distracted even for one second! But talking to him was distraction enough. She is soon pulled below the surface, and Jasper rises from the surface, winded from struggling against Lapis' tight grip on the fusion. She notices Steven (who she still believes is Rose), and begins trying to crawl toward him, despite still being shackled to the water.
Jasper: You...! You...!
Steven backs away from Jasper as she struggles toward him for a few seconds. Lapis soon asserts control again, though, and drags Jasper back below the surface, rising above the glassy water herself. But Lapis is tattered and battered, with visible wear. The effort of maintaining control has cost her.
Steven again tries to insist that he and the Crystal Gems want to help, but Lapis demands:
Why won't you just let me do this for you?!
She finally ends their conversation by telling him:
The horrifying fusion Malachite appears, monstrously huge. She turns toward Steven and shouts for him to "GO!" Steven awakens again, just as Garnet gets back. Steven rushes to her, upset. Garnet acknowledges Steven's emotions but tells him there's nothing they can do for her right now. She admits needing to rest, and immediately tips right over, falling on her face and snoring.
Good night, everybody!
---
Tropes:
---