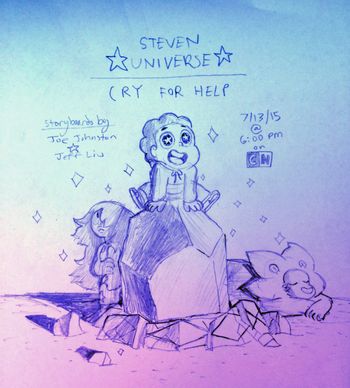 Steven's favorite TV show gets interrupted by a magical disturbance. Peridot sends out a distress message to Yellow Diamond on TV, which Steven confirms is happening all over by calling Connie, who also sees the message. The Crystal Gems and Steven go to the communication hub, which was last seen in "Coach Steven". Peridot has rebuilt it, but since the last time Garnet and Amethyst formed Sugilite was a disaster, Garnet decides to fuse with Pearl instead and form Sardonyx.
Sardonyx turns out to be a giant stage magician who wields an oversized warhammer. She's happy to meet Steven and is very efficient at knocking the communications hub apart. She defuses afterwards with no problems, and the Crystal Gems go home and get ready to search for Peridot the next day. Crisis averted!
Except that, come tomorrow, the hub is once more in use, and Sardonyx has to once more take it apart. While the fusion appears to work like a charm, Steven notices that Amethyst is feeling down. The success of Sardonyx just serves to reminder of how Sugilite failed, and she's ashamed of that and acutely aware that Garnet no longer trusts her to fuse with. Steven decides to help her out by taking her on a stakeout to catch Peridot in the act of repairing the hub.
The stakeout, as stakeouts usually are, was rather boring for a while. Steven taught Amethyst a double-vision trick (and showed that she had to brush away the bangs covering one eye to do it). They also discovered a Peridot-shaped cactus, but no Peridot. Then finally, they get something. Someone is showing up in Peridot's escape pod and fixing the hub. Weird, last time they checked, the Crystal Gems had it. Steven narrates what the person is doing. At the top of the hub, they get out of the escape pod and turn so the telescope he's using can see their profile.
Steven
: What's she doing up there? Enhance! And hey, for some reason Peridot kinda looks like...
Pearl
?
Back at the temple, Steven and Amethyst discuss Pearl's reasoning. Steven thinks that Pearl's trying to figure out how it works, but Amethyst is skeptical. The hub activates again, and the Crystal Gems go out to knock it out again. Pearl is eager to fuse again, but Amethyst and Steven are worried about it, and spill the beans regarding Pearl's nighttime activities. It turns out, Peridot only repaired the hub the first time. The other times were Pearl, because she enjoyed the feeling of being Sardonyx and wanted to feel it a few more times before they got on with their Peridot-hunt.
Garnet is absolutely furious with Pearl for breaking her trust. Pearl weakly tries to defend herself, and Amethyst also tries to defend her, saying that both of them loved fusing with Garnet because they were able to share her power and confidence. This doesn't help Pearl's case any. Garnet decides to fuse with Amethyst, and, as Sugilite, they smash the tower into pieces too small to be repaired.
Back at the temple, Garnet is still not speaking to Pearl. Steven and Amethyst watch the end of a Crying Breakfast Friends episode with a similar plot wherein the Pearl-analogue is Easily Forgiven, and the two wonder why their reality couldn't be more like the cartoons.
Steven shuts off his TV, and the episode ends.
---
Tropes:
---