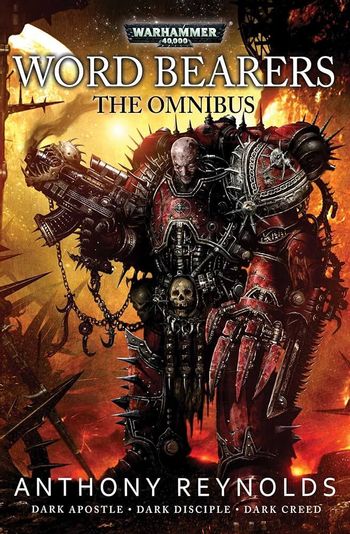 Please resist the urge to put examples on this page or link to this page on tropes unless you are citing from 40K novels in which the Word Bearers feature. Examples which are specific to rulebooks and other in-universe fluff should go on either the Warhammer 40,000 page or in the Word Bearers section of the Warhammer 40,000: Chaos Marines page.
The Word Bearers trilogy of books by Anthony Reynolds consists of Dark Apostle, Dark Disciple and Dark Creed, set in the Warhammer 40,000 universe. There are also a couple of short stories in the Horus Heresy novel series that act as backstory for several of the characters. The series focuses on the titular legion of Chaos Space Marines, rather than 40K's "good guys" like the Space Marines or the Tau. The books also go into more detail about the traditions and beliefs of the Word Bearers, expanding upon the threadbare picture of one of the most infamous legions in 40k canon.
The main plot focuses on a specific Host commanded by the Dark Apostle Jarulek and his apprentice Marduk on their search for an artifact that supposedly predates humanity. The prophecies say it will turn the tide of the war against the Imperium but other than that they know nothing. The remainder follows Marduk has he continues his master's work, eventually rising to become Dark Apostle himself and getting caught up in the machinations and intrigue of the Legion's higher-ups.
Also check out the character sheet.
---
Word Bearers contains the following tropes
---