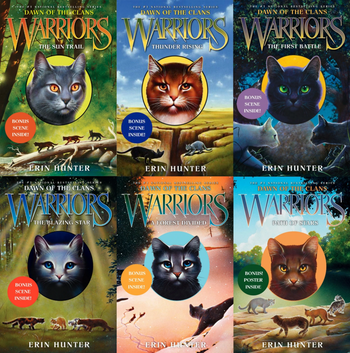 "Our home cannot support us all. But there is another place for some of us, full of sunlight and warmth and prey for all seasons. I have seen it in my dreams. I believe in my heart that these mountains are not where every cat belongs. The other place is waiting for those of you who are brave enough to make the journey."
—Stoneteller (Half Moon)
Dawn of the Clans is the fifth arc of the popular Warrior Cats series, after the Omen of the Stars arc. Beginning in 2013, it tells the tale of the origins and early days of the Warrior Clans, when the Warrior Code had yet to be created, and the Clan founders still ruled.
As usual, the arc has six books:
In addition, Moth Flight's Vision, the 2015 Super Edition, takes place in this timeline and serves as an epilogue to the arc. It stars Moth Flight, the first medicine cat, and explains the beginnings of the medicine code and how the founders got their nine lives. The Dawn of the Clans characters are also featured in Warriors: The Ultimate Guide.
The story of the series focuses on a group of cats known as the Followers of the Sun Trail. Originally members of what would become the Tribe of Rushing Water, these sixteen cats set off from their mountain home to find a new place to live when it became clear that there wasn't enough food to support everyone. The outside world comes as a shock to cats that have spent their whole lives in the mountains, and they are forced to adapt to it on their journey. Eventually, they encounter a seemingly idyllic forest. However, their arrival causes tensions to rise with the forest cats, and they are soon thrust into a conflict far beyond anything the forest has ever known.
The series stars many legendary cats from the past, such as Graywing the Wise, Clear Sky, Tall Shadow, Thunder, Wind Runner, River Ripple, and many others.
---
This series provides examples of:
---