The Hitman franchise is one which has produced books based on the adventures of Agent 47. There have been two tie-in novels, The Enemy Within and Damnation, written (respectively) by William C. Dietz and Raymond Benson (best known for his James Bond works).
Hitman: Enemy Within is the first novel in the series. It was written by William C. Dietz and released on August 28, 2007, from Del Rey Books. The novel's plot is set between Hitman 2: Silent Assassin and Hitman: Blood Money and evolves around a rival murder-for-hire organization known as Puissance Treize (French for "Power Thirteen") which attempted to destroy 47's employer, the International Contract Agency.
Hitman: Damnation is the second novel in the series. It was released on October 30, 2012 in North America, and was later released in other countries as well. It was written by author Raymond Benson. It is a Prequel to Hitman: Absolution and follows Diana's decision to defect from the ICA as well the consequences this has for Agent 47.
Overachievers
is a side-story for the series. It was released and written by the head of IOI; Michael Vogt. It follows an ICA's agent mission to make a spectacular kill to rival 47's penchant for glamourous and accidental kills. It goes...wrong, and the cleaners in the crime scene recount the events, and unfold what happened. The timeline for this story is ambiguous, but it's likely set before the events of Hitman (2016).
There's not been any published novels since 2012, but a prequel Comic Book series; Agent 47: Birth of the Hitman, was made in 2017, which is one to the entire Hitman series (and also makes a point to reference Enemy Within).
---
These novels provide the following trope examples:
open/close all folders
Hitman: Enemy Within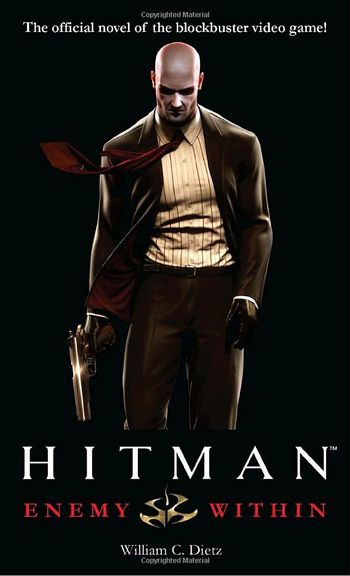 Hitman: Damnation
Adaptational Badass: Travis is a complete nincompoop in Absolution but comes close to being a Reasonable Authority Figure and quite talented Manipulative Bastard here.
Adaptational Villainy: 47 is noticeably more cavalier about collateral damage here than in games, poisoning an innocent gardener to take his place.
Arab Oil Sheikh: One of two groups, along with The Mafiya, supporting Wilkens covertly.
Car Fu: During the final act of the book

Agent 47 ends up using a school bus to chase down and then kill Charlie Wilkens

Cuckold: It is theorized in the book that Dana's father was this to

Charlie

Compressed Vice: Agent 47 is addicted to painkillers precisely long enough to give him a character arc in the book.
Deadpan Snarker: Near the end of the book Agent 47 can't help but internally comment about how "Charlie Wilkens is a survivor".
Expy: Charlie Wilkens fast-food restaurant is pretty clearly meant to invoke Chick fil a.
False Flag Operation: Charlie Wilkens uses these to gain a lot of support in his bid to become President. He even has his own hand-picked candidate killed so he can take her place on the ballot.
Functional Addict: Agent 47 is still one of the best killers on the planet. Played with as it's clear he's far from being at the top of his game.
The Mafiya: The other of Charlie Wilken's supporters.
Out-of-Character Moment: YMMV. Killing an innocent woman during a mission. Also, developing his emotional attachment to Helena Mc Adams. Admittedly, the latter happened in both movies.
Path of Inspiration: Averted. The Path of Will is basically just Unitarianism. It's just being misused by Charlie.
Prequel: Is this for Hitman: Absolution.
Right-Wing Militia Fanatic: The New Model Army is a pretty good model of these, aided by the Church of the Will.
Recovered Addict: Helena Mc Adams was a prostitute and junkie before the Church of the Will healed her.
Series Continuity Error: The Hitman mentions he doesn't believe in God and makes several statements which contradict Silent Assassin.
Sinister Minister: Charlie Wilkens turns out to be one of these.
Smug Snake: Charlie Wilkens would be a Magnificent Bastard if not for his monumentally stupid plan involving his assassination.
Too Dumb to Live: Charlie Wilkens faking an assassination plot against him? Fine. Faking an assassination plot by actually hiring the deadliest assassin in the world and not telling him it's a fake? Too Dumb to Live doesn't begin to cover it.
Villain with Good Publicity: Charlie Wilkens is one of the most beloved individuals in America

but is secretly supporting a terrorist group.
Overachievers
---
---