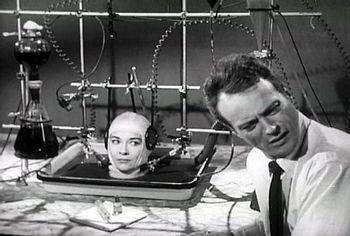 "Let me die... please, let me die..."
— Jan "in the Pan" Compton
Evil Doctor Bill Cortner is a rule-flouting maverick who has been experimenting with the transplanting of human limbs and organs, and even repairing and reconnecting of nervous system tissue — much to the displeasure of his traditionalist surgeon father. But Cortner gets a chance to prove he's not been wasting his time when his fiancee Jan is decapitated in a car accident. Cortner quickly uses 'neck-pan juice' to keep her head alive while he searches for an attractive body to reattach it to. Jan, however, has her own agenda...
For the Mystery Science Theater 3000 version, please go to the episode recap page.
---
The Tropes That Wouldn't Die:
---