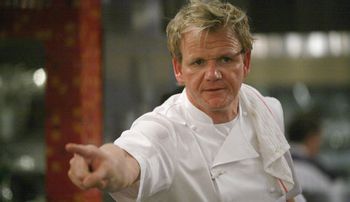 "'Gordon Ramsay' is an anagram for 'my gonads roar'."
— The Truth About Gordon Ramsay Documentary
Gordon James Ramsay, OBE (born 8 November 1966 in Johnstone, Scotland) is a British multiple Michelin star awarded chef, television personality and restaurateur known for his ferocious temperament, rude vocabulary, and no-nonsense attitude.
Born in Scotland, Ramsay originally dreamed of becoming a football player for his childhood team Rangers, but a leg injury left him with crushed hopes and the inability to sit cross-legged. Instead, he began a career in the culinary arts and landed a chef's job in the famous Harvey's Restaurant in London, where the tough training regime and unreasonably high standards set by head chef Marco Pierre White fostered Ramsay's constant swearing and temperamental condescending attitude. However, from several accounts, he's a much nicer person on British TV, on MasterChef (especially the Junior version of MasterChef), and in interviews.
He first came to the notice of television audiences with 1998's Ramsay's Boiling Point, which documented the opening and first few months operation of his first restaurant in Chelsea. Until that point chefs on British TV had generally tended to fall into one of three molds: cultured and upper-class British, sophisticated European (usually Italian or French), or perpetually cheerful and upbeat. While Ramsay wasn't the first example of a bad-tempered, foul-mouthed TV chef, he was definitely the first one to achieve major fame.
Surprisingly, Ramsay himself has said in multiple interviews that he's not as talented a chef as people perceive him to be, and that his real strength isn't his cooking skills (which, have no doubt at all, are rather formidable), but rather his managerial skills. He says that his ability to run a successful business is the true secret to his success.
He has starred in main roles in successful television shows The F Word, Ramsay's Best Restaurant, and both British and American versions of Kitchen Nightmares, Hell's Kitchen, MasterChef, Hotel Hell, and 24 Hours to Hell and Back.
---
Tropes related to Gordon Ramsay:
The Ace:

Occasionally on Hell's Kitchen, he will kick out both teams and complete the service with himself and his sous-chefs, successfully doing the work of two full brigades by themselves.
He once participated in a Mystery Box challenge on MasterChef and spent half the time talking to his co-hosts, observing the contestants, and kicking back with a mug of tea before whipping up a restaurant-class dish without breaking a sweat.
In a later season he did so yet again and filleted a salmon like it was nothing. It took the contestants a moment to realize that he was already done.
To put an example of just how formidable he is, he once went head-to-head against the current salmon cutting Guinness world record holder. He lost by only one piece and a handful of seconds.
This even extends beyond cooking. He's in great physical fitness, able to keep up with Royal Marines on an endurance course and even finish it before some of the other soldiers, despite being twice their age.
One episode of Kitchen Nightmares (UK) had him running a whole restaurant, by himself, with no other cooks, servers or waiters and pulling in more money for the afternoon than the owner did for weeks. Trying to show her why the restaurant needed to be open for the afternoon. He admitted later on that it was one of the hardest things he has ever done.

Adam Westing:
Amazingly Embarrassing Parents: In the kitchen he is one of the most brutal taskmasters around. Outside of it, he is a big goof who loves nothing more than to hug and kiss his children as they try to squirm away.

Case in point, take his interactions with his youngest daughter Tilly (short for Matilda) in the fifth episode of MasterChef Junior's third season. In response to Tilly pronouncing basil the American way (bay-sil as opposed to the British baa-sil), he tries to set up a date between her and Andrew.
In another incident involving Tilly, he and Tilly went head to head against James Corden on The Late Late Show in a competition to see who could make the better Full English Breakfast. Ramsay's competitiveness got the better of him, causing him to fill the studio with smoke while trying to make extra crispy bacon which immediately led to a small grease fire. Tilly found herself mortified.
There's even a reel of his embarrassing dad moments.
---