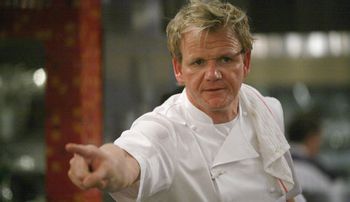 "'Gordon Ramsay' is an anagram for 'my gonads roar'."
— The Truth About Gordon Ramsay Documentary
Gordon James Ramsay, OBE (born 8 November 1966 in Johnstone, Scotland) is a British multiple Michelin star awarded chef, television personality, and restaurateur known for his ferocious temperament, colorful vocabulary, and no-nonsense attitude.
Born in Scotland, Ramsay originally dreamed of becoming a football player for his childhood team Rangers, but a leg injury left him with crushed hopes and the inability to sit cross-legged. Instead, he began a career in the culinary arts and landed a chef's job in the famous Harvey's Restaurant in London, where the tough training regime and unreasonably high standards set by head chef Marco Pierre White fostered Ramsay's constant swearing and temperamental condescending attitude. However, from several accounts, he's a much nicer person on British TV, on MasterChef (especially the Junior version of MasterChef), and in interviews.
He first came to the notice of television audiences with 1998's Ramsay's Boiling Point, which documented the opening and first few months of operation of his first restaurant in Chelsea. Until that point, chefs on British TV had generally tended to fall into one of three molds: cultured and upper-class British, sophisticated European (usually Italian or French), or perpetually cheerful and upbeat. While Ramsay wasn't the first example of a bad-tempered, foul-mouthed TV chef, he was definitely the first one to achieve major fame.
Surprisingly, Ramsay himself has said in multiple interviews that he's not as talented a chef as people perceive him to be and that his real strength isn't his cooking skills (which are undoubtedly formidable), but rather his managerial skills. He says that his ability to run a successful business is the true secret to his success.
He has starred in main roles in successful television shows The F Word, Ramsay's Best Restaurant, and both British and American versions of Kitchen Nightmares, Hell's Kitchen, MasterChef, Hotel Hell, and 24 Hours to Hell and Back.
---
THESE TROPES!!!!! ARE FUCKIN' RAAAAAAWWWWWWW!!!!!!!!!!!:
---