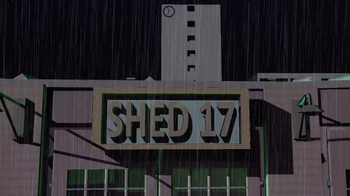 They were the stories that have charmed an entire generation. From the books to the television series, people around the world have grown up with the railways stories, and all their cheerful characters. But the truth behind Thomas and his friends was no children's fantasy. The truth would be horrifying.

— Opening Monologue
Shed 17 is a fan-made half-hour video done by YouTube user Paul Vids, which is done as a black comedy/horror Mockumentary of the real Thomas & Friends.
The video can be watched here
, though you need to be 17+, and for good reason, as this is most definitely not your ordinary fan animation.
A sequel
titled Project G-1 was made, in which Paul collaborated with other YouTubers to create, and it is even more morbid than its predecessor. A day after it was first uploaded, it was taken down for a presumed community guidelines violation, and later reuploaded; the reuploaded version removes the presumed offending scene in which Smudger is "raped" by a fanatical fan.note Although, a comment from the original upload by Paul confirms that the fan tickled Smudger in reality, and the scene was merely played for horror.
Paul has also been working on a more humorous Thomas parody called The Adventures of Roly the Coach which is a series of short episodes involving the titular anthropomorphic coach and his numerous misfortunes, from having to deal with unsavory characters to trying and failing to get British Rail reformed. The series uses the same animation style and assets as Shed 17 to the point where some may consider it a spin-off but it's made clear this is not in the same universe and the living vehicle characters are just living vehicles and are not mutated humans. Some crude humor and violence is present in Roly the Coach but it's mostly played for laughs as opposed to being played for horror in Shed 17. Paul has another parody series called Thomas' PC Adventures which satirizes Political Overcorrectness with the engines getting into conflicts like Thomas being cancelled for making a supposedly offensive comment about Percy's paint color and the engines getting in trouble for body-shaming Sir Topham Hatt. Like Roly the Coach, this series is mostly played for laughs and is a lot lighter than Shed 17 or Project G-1.
open/close all folders
Tropes in Shed 17
Shed 17 provides examples of:
Tropes in Project G-1
Project G-1 provides examples of:
Tropes in Roly the Coach
The Adventures of Roly the Coach provides examples of:
Tropes in Thomas' PC Adventures
---