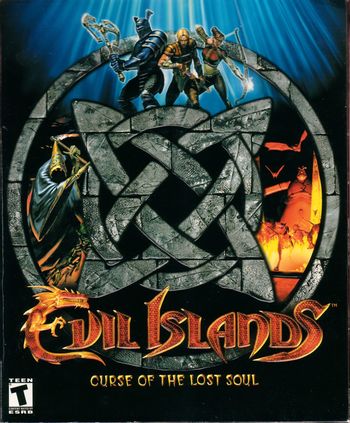 Evil Islands: Curse of the Lost Soul
, originally
The Cursed Lands
(Russian: Проклятые земли), is a PC game by
Nival Interactive
that combines role-playing, stealth and real-time strategy. It is the third game of the
Allods
series, after
Rage of Mages
and
Rage of Mages 2: Necromancer
.
Evil Islands
introduces a new interface and full 3D graphics.
The game was published in October 2000 in Russia and CIS (Russian version) and a few months later in English.
The game's story consists of a man called Zak who finds himself at a base of ruin in an unknown land called Gipath. After he wakes up, Zak finds a group of people praying and as they spot him, they run off and alert a nearby village shouting, "The chosen one has come!" Zak soon finds this village and the people who live in it. While inside the village the village Elder, named "Silver Tongue", briefs Zak on how they believe he is this chosen one and how he has come to save their village from Goblins and other such threats that roam the land. Soon after he has done these Quests, he finds a plot about a traitor who plans on killing him. And the story also unfolds even more over three different lands, and how he wants to regain his lost memory over the course of the game's story.
Evil Islands also has an online muliplayer feature allowing you and other people to do quests, level up and generally do the things you do on the single player side of the game but with human players. Quests are different from those of the single player story and have different objectives and rewards. The multiplayer portion of the game is also much harder than normal play especially without other players, encouraging people to group up. Multiplayer gaming at the time when the game was released was still fairly new, making Evil Islands stand out from other roleplay games for its time.
The game has an addon, Evil Islands: Lost in Astral, which was released only in Russia.
---
This game contains examples of:
---