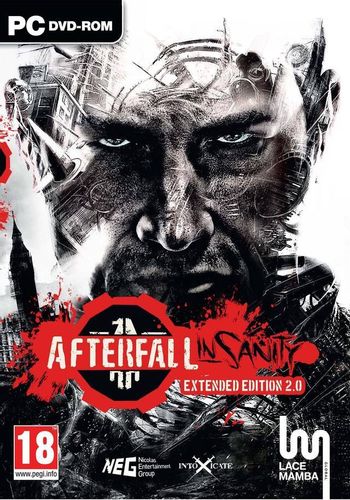 Afterfall: Insanity
is a third-person,
over-the-shoulder
Polish action-
Survival Horror
game released in 2011. It has been described as "the Polish
Dead Space
meets
Fallout 3
".
The game takes place in an alternate timeline where Nazi Germany developed the atom bomb just in time to stave off the Russian advance on the German homeland. This resulted in a 3-way cold war between Germany, the United States, and the Soviet Union, all of which had developed atomic weapons. The 3 superpowers eventually ended up starting World War III, devastating the surface of the Earth.
The player takes the role of Albert Tokaj, a survivor living in an underground vault known as "Glory". "Glory" is a vast, high-tech shelter where a large community of Polish citizens were led to take refuge from the atomic fire. Albert is the vault's psychologist, tasked with maintaining the mental well-being of the vault's population in the face of the global apocalypse and the confined living space of the vault. However, Albert himself is suffering from mental issues, including chronic insomnia, as well as a strained relationship with the vault's absolute military overseer, Colonel Potocki.
When Albert is dispatched along with a small security team to investigate reports of odd behavior on the vault's second sub-level, he discovers that a mysterious saboteur has released a mutagenic contamination into the air system, transforming the vault inhabitants into mindless, bloodthirsty psychopaths that eventually mutate into monsterous creatures. Attempting to flee the contaminated area, he discovers that he has taken the blame for the deadly sabotage, resulting in the vault's security forces attempting to gun him down as well.
The game has a heavy emphasis on melee combat, with the player being able to swing a variety of melee weapons such as pipes or fire axes to combat the insane or mutated enemies. Firearms are also present, but ammo is limited in many areas and you can only carry one weapon at a time.
An "Extended Edition" of the game was released in mid 2012 for Xbox Live, and released on Steam as part of their greenlit games project in early December 2012. The Extended Edition features more areas and a vastly improved combat system, although the plot itself is not expanded upon.
A sequel, Afterfall: Reconquest, was released on Steam under the Early Access program in 2014. Reconquest is more action-oriented than Insanity, and was planned to be released in an episodic format.
In early 2015, it was discovered that developer Nicolas Games had illegally used Unreal Engine assets to create Insanity. The resultant backlash, which included a disastrous lawsuit, ultimately led to Nicolas Games declaring bankruptcy and both Insanity and Reconquest being pulled from distributors due to its illegal engine use. Any further episodes of Reconquest are extremely unlikely to ever be released.
---
Tropes present in Afterfall: Insanity include:
---