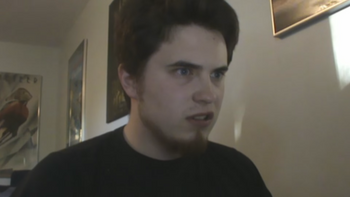 Alex Rochon (aka "peanut3423" and "The Autarch (of Flame)" is a Canadian YouTube producer and voice actor. Much like his friend Josh Scorcher, Alex's channel largely comprises of Top Ten lists, although his newest work includes Hades Riffs, where the titular god (marvelously voiced by Alex himself) MST's bad videos.
He was also set to voice the character of Ghoulloyd and The Boogieman in the indie game Fiona Frightening and the Wicked Wardrobe, but that game was ultimately cancelled.
After seven years of making countdowns lists on YouTube, Alex finally announced his retirement of The Autarch in September 2015. His final countdown Top Ten Personal Experiences with Video Games was uploaded a few days after the announcement and marked his final work as The Autarch. Despite retiring his countdown videos, he still helps JoshScorcher with making his countdown videos, remains active with his fanbase, and currently does voice work, notably for fandubs of Undertale and as a lead in the upcoming The Amazing Digital Circus. He has also announced plans to work on a web-series in the future, though no other details have been revealed.
Tropes appearing in the Autarch's videos: