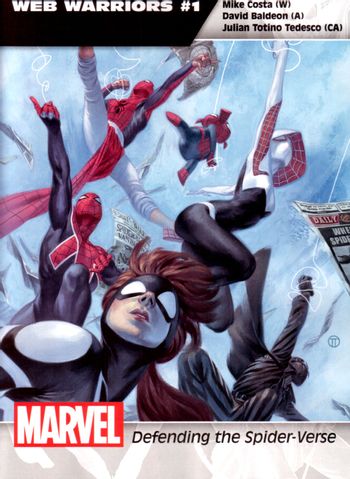 "A team of spiders moving from one world to the next, protecting the
Web
."
During the events of Spider-Verse and Secret Wars (2015), several dimensions lost their web-slingers to the ravenous feeding of the Inheritors. Spider-UK, with his own dimension now gone entirely due to an unrelated incident, decides that the best thing to do for these worlds would be the monitor them from afar and form a team that can jump in at any moment to help save these Spider-less Earths when necessary. So begins the interdimensional adventures of the Web Warriors.
Web Warriors was a Marvel Comics title that ran from January to November 2016. The main team consisted of Spider-UK, Spider-Man India, Spider-Man Noir, Spider-Gwen, Spider-Ham, Anya Corazón, and May "Mayday" Parker. The group operated out of Earth-001, the former homeworld of the aforementioned Inheritors. The series was cancelled after the 11th issue, but the team was still seen operating in the background of other Spider books until the events of Spider-Geddon forced them to disband.
Not to be confused with the third season of Ultimate Spider-Man (2012), which went under the title "Web Warriors" and served as a rough tie-in to the Spider-Verse event.
---
Web Warriors includes examples of the following tropes: