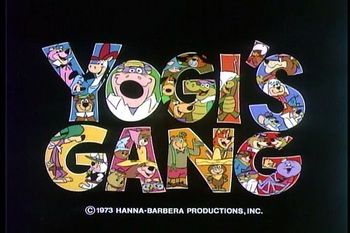 "Come on, everybody! Let's join Yogi's Gang!"

- Yogi Bear

"We're on a trip with a wacky ship/

We'll have a lark... on Yogi's Ark...!

"

- His Gang
Yogi's Gang is a Hanna-Barbera cartoon series from 1973. A made-for-TV movie, Yogi's Ark Lark from 1972, served as a pilot.
In the series, Yogi Bear and his friends travel around the world in a flying ark and meet villains who want to spread their faults and vices. One of the many big Massive Multiplayer Crossover shows popular in the 1970s and 1980s era of Hanna-Barbera, only this one is presumably trying to display a social conscience.
---
That's one trope-lution to stop pollution:
---