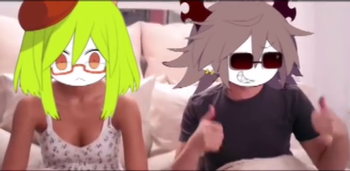 King mogeko: It's part walkthrough, part drama, part parody, and all kinds of awesome!
One day, a man going by the handle of Marshall D. Teach happened to watch an online playthrough of Mogeko Castle, and thought to himself how much more awesome it would be with voices. Specifically, a full cast of voices, a lot less silence as the heroine roamed the castle's corridors, and a number of extra comedy skits. Thus, The With Voices Project was born.
Even after finishing with Mogeko Castle, Teach decided he wanted to give the "With Voices" treatment to similar unvoiced, text-based games. His current project is Ib. You can watch his videos here
, and also support his efforts here at his Patreon page.
No relation to Let's Dub Project.
So far, the With Voices oeuvre includes:
---
The With Voices Project provides examples of:
---
... and now, back to the troping!