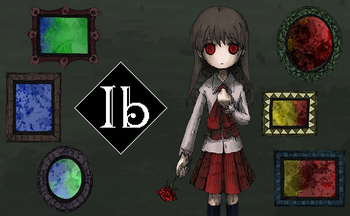 "come down below ib
ill show you someplace secret"
— The text below the Fabricated World painting
Ib is a horror adventure game released by Kouri in February 2012, using RPG Maker 2000. It follows the experiences of a nine-year-old girl named Ib who visits an art gallery with her parents. While looking around, she finds herself stuck in a strange, surreal world where the art has come to life. What's worse, Ib's life is now linked to that of a red rose she picks up, and if all the petals fall she will die.
Luckily, Ib finds friends along her journey. They are a man named Garry whom she saves, and a girl about her own age named Mary whom they bump into later, both of whom have roses of their own. Together, the three of them solve puzzles and try to find a way to get back to the real world.
An English-translated version can be obtained here
(Now updated to Version 1.07.)
On October 3, 2021, Kouri announced
that they are working on a remake of the game for the game's tenth anniversary, featuring redrawn graphics and new music. The remake officially released on Steam on April 11, 2022. It will also be ported to the Nintendo Switch on March 9 of 2023.
---
Ib contains examples of:
---