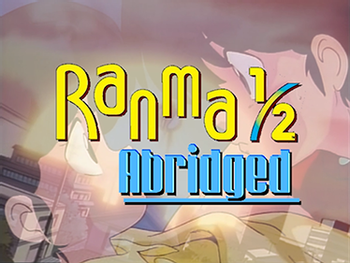 The abridged series of Ranma ½ made by Mythros Media (Mythros, Sithis Bear and Aymehx), an affectionate parody of the original series in the vein of Little Kuriboh's "anything goes" perspective on abridging rather than the more recent closely-canon abridging style popularised by Team Four Star. It is one of the more recent attempts at abridging Ranma ½, and has produced only a few episodes so far. Each episode condenses the original series into ten- to twelve-minute videos, with each episode title being a pun on Eighties visual media.
The episodes may be found at Mythros Media's Channel
.
As of The Great Laptop Self-Immolation of 2016 the series is on temporary hiatus, the Mythros Media team having lost all progress on Episode 3 and a functional computer for recording/editing. Mythros has said in an update he is working on getting a new one.
---
This work provides examples of: