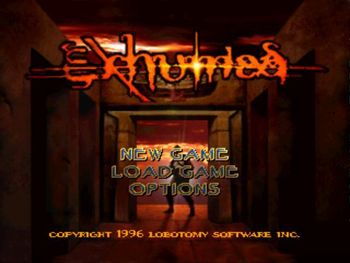 PowerSlave
(a.k.a.
Exhumed
in Europe and
Seireki 1999: Pharaoh no Fukkatsu
Translation
in Japan) is a 1996
First-Person Shooter
released for
PC
,
PlayStation
and
Sega Saturn
. It is set in Egyptian ruins and makes the player fight alone against plenty of demons and undead, making it a kind of
Doom
or
Duke Nukem 3D
in Egypt. However, while the PC version is a typical FPS of the time, the console version distinguished itself by being a first-person
Metroidvania
long before
Metroid Prime
came out.
The story occurs in the end of the XXth century and puts the player in the shoes of a special forces soldier sent in Egypt (near Karnak) with a team to investigate weird rumors about monsters which appeared there and invaded the place. Their chopper crashes, and he is the only survivor. Later, he meets the ghost of King Ramses, who warns the hero of who the true culprits are: an alien race called the Kilmaat, who are using Ramses' corpse for some evil purpose.
After being unavailable for digital purchase for years, the PC version of the game was digitally re-released
on GOG.com by Throwback Entertainment on November 19th, 2020, with Throwback also working with
Nightdive Studios to remaster the console versions of the game. Said remaster of the console version, titled Powerslave: Exhumed, was officially announced on August 14th, 2021 and released on February 10th, 2022.
Not to be confused with the Powerslave album made by Iron Maiden (although the title track deals with Ancient Egypt too), nor the Death Metal band of the same name.
---
This game shows examples of:
---