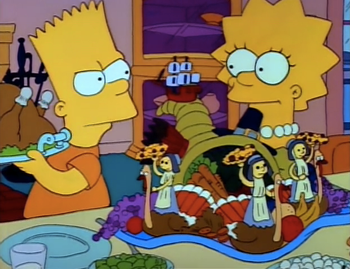 Original air date: 11/22/1990
Production code: 7F07
The definitive Thanksgiving episode—and one of only two that The Simpsons has done—is Bart vs. Thanksgiving, where Bart learns the meaning of the holiday, remorse, and forgiveness after getting into a fight with his family and running away from home.
It's Thanksgiving Day, and Homer is watching Macy's Thanksgiving Day parade on TV. Lisa is meticulously assembling a centerpiece to place on the family dinner table (with a little help from Maggie), while Marge is busy cooking and preparing for the guests: Patty, Selma, Jacqueline, and Grampa. Bart is basically getting in everyone's way. Patty and Selma arrive with main dishes of their own as an overt critique of Marge's cooking, while their mother snarkily tells Marge she never does anything right.
Later, as the guests assemble at the table, Lisa brings in the centerpiece and proudly shows it off, just as Bart brings in the turkey. When Bart tries to jockey for position in placing the turkey platter, he gets into an argument with Lisa about where her centerpiece should be set, resulting in a fight and, in the middle of the ruckus, the centerpiece lands inside the fireplace and instantly is destroyed in the flames. Lisa is devastated and runs to her room in tears, while Bart refuses to accept responsibility. An angry Marge—with Homer, in a rare move, backing her up—sends Bart to his room without dinner, declaring that "you ruined Thanksgiving!"
Marge tells Bart that if he sincerely apologizes, he will be allowed to dinner, but a stubborn Bart is convinced that he has done nothing wrong and that Lisa was to blame. Scoffing at the directive and thinking he doesn't have to take his punishment, Bart decides he's going to show his family a thing or two by running away. Santa's Little Helper, who had been thrown out of the house for taking Homer's drumstick, decides to join Bart as they wander through town. Bart first stops at a house that happens to be Mr. Burns' mansion, where he tries to swipe a freshly baked pie but is run off by Burns' bloodthirsty hounds. Later, after donating plasma at a local paid-donor blood bank (that happened to be open on Thanksgiving Day) for $12 cash, Bart passes out on the streets in a run-down part of Springfield. When he awakens, he's greeted by two street bums who bring him to a community Thanksgiving dinner for the less fortunate. There, Kent Brockman is preparing to do an insincere, self-serving TV commentary about the holiday and how society treats the poor and needy; during his live commentary, he interviews Bart, who claims he's homeless and "didn't apologize." Homer and Marge see the report and call the police, admitting to officers their fear that they may have been too harsh with Bart.
Meanwhile, Bart and the two homeless urchins begin to have a conversation, where Bart, seeing that his two new friends have no family or anything else, admits he has a family that loves and cares for him, and that he has plenty to be thankful for. He begins to feel remorseful and, after giving his $12 to the bums, decides to go home... dejected but realizing he may have learned something about the meaning of Thanksgiving.
Upon returning home, he starts to go inside but reconsiders after envisioning his family rejecting his apology and blaming him for everything. Instead, he climbs onto the roof to try to sort out his feelings. When he hears Lisa crying in her room and conceding defeat, Bart—perhaps realizing his earlier imagining of how his family would greet him was likely all in his head—invites her to join him on the roof. Lisa says how hurt she feels and that all she wants is for Bart to say he is sorry for the trouble he caused. Bart struggles to keep his bravado up but finally admits he was in the wrong and apologizes, and an overjoyed Lisa accepts. Homer and Marge, overhearing the conversation, are relieved that all is okay between the two, and the Thanksgiving holiday at the Simpsons is saved. The episode ends with the family enjoying leftovers in the kitchen, with Homer thanking God for giving them "one more crack at togetherness."
---
This episode contains examples of:
---