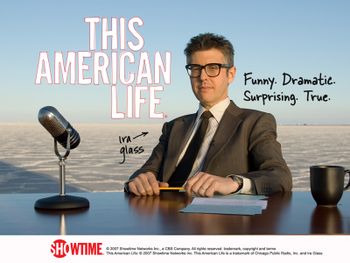 "It's This American Life, I'm Ira Glass. Each week on our show, we bring you a theme, and then present variations on that theme. This week..."
This American Life is a long-running (1995-present), award-winning weekly Documentary series on American public radio, hosted by Ira Glass. Produced by Chicago Public Radio, it's a unique take on radio journalism, with a hip, literary style.
Though often thought of as an NPR production, it's actually distributed by Chicago Public Radio, with the actual delivery to stations undertaken by Public Radio Exchange. However, the show actually does air on many NPR member stations, as those stations are more often than not, also PRX affiliates. They have also done occasional Crossovers, in which NPR reporters like Chana Joffe-Walt present a story on TAL, which adds to the confusion. And of course, Glass himself is an NPR News veteran, having worked on Morning Edition, All Things Considered, and Talk of the Nation before he got his own show.
Indeed, starting in 2008, TAL started a continued partnership with NPR News, the Planet Money quasi-Spin-Off podcast, consisting of NPR economics/politics reporters Adam Davidson, David Kestenbaum, Chana Joffe-Walt, and Jacob Goldstein, along with TAL regular Alex Blumberg talking about economics issues, ever since the Blumberg-Davidson TAL episode "The Giant Pool of Money" (basically the Origin Story of the financial crisis) proved to be a smash success. The Planet Money team, confusingly, also appears on actual NPR's Morning Edition and All Things Considered.
The show has an unusual structure based around the idea of storytelling. Each week's show loosely centers on a particular theme, and divided into several acts, nonfiction and fiction stories that explore that theme. Each show begins with a short prologue introduced by Glass, who then explains the theme between the prologue and first act. The number of stories varies by show, the range so far is 1 to 20.
In 2007, it became the first US public-radio series to Spin-Off a show on a commercial TV network, with an Emmy-winning Showtime version. After two seasons, the show was canceled by request of Glass and company, due to the difficult scheduling required to make both a TV show and a radio show simultaneously.
It's also known for launching the careers of several popular writers, such Sarah Vowell and David Sedaris, as well as featuring other notable recurring contributors, such as journalist David Rakoffnote who has since passed away in August 2012 and comedian Mike Birbiglia.
TAL also has presented a number of live shows throughout its history, and more recently, live digital-cinema broadcasts to movie theaters. These often serve as fundraisers for the radio show. The most recent of these included the live singing debut of Joss Whedon.
In 2020, This American Life won the first Pulitizer Prize for audio journalism.
Parodies include an article from The Onion here
, Stephen Colbert's interview with Glass
, a few episodes of the Kasper Hauser podcast (found here
), the Chuck Tingle erotic story This American Butt with Ira Ass, and an ongoing series, This American Wife.
Available online as a podcast.
---
This American Life contains examples of the following tropes:
---