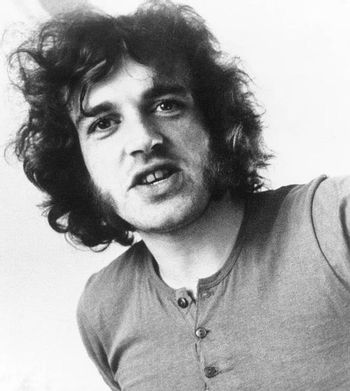 "What would you do if I sang out of tune?
Would you stand up and walk out on me?
Lend me your ears and I'll sing you a song,
And I'll try not to sing out of key."
"With a Little Help from My Friends"
John Robert "Joe" Cocker, OBE (20 May 1944 – 22 December 2014) was a Blues Rock singer, sometimes identified as a British R&B singer. He was most famous for singing in a raspy voice that can reach Large Ham levels for some, but felt passionate at the same time. He was known for his eccentric performance style, making bizarre hand movements on stage. His first hit was "With A Little Help From My Friends" (1968), a cover from The Beatles album Sgt. Pepper's Lonely Hearts Club Band (1967). He was also one of the more memorable performers at the Woodstock festival in 1969. Over the years he recorded many albums, of which Mad Dogs and Englishmen is the most well known, and hits such as "You Can Leave Your Hat On" (1972), "You Are So Beautiful To Me" (1982) and "Up Where We Belong" (1983). Cocker was predominantly known as a cover artist and a live performer, as he didn't record much material of his own.
Popular culture knows him especially for the use of "Up Where We Belong" as the Bridal Carry scene in An Officer and a Gentleman (1982), the striptease during "You Can Leave Your Hat On" in 9½ Weeks (1986), "Love Lives On" (written for Harry and the Hendersons (1987)) and "With A Little Help From My Friends", which was used as the theme song of The Wonder Years.
Albums
---
I get by with a little help from my tropes:
---