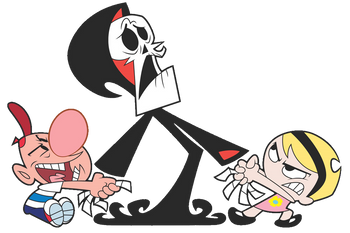 "I can't believe we just Melvined Death!"
The Grim Reaper or any god of death is usually a big deal. They're master of one of the most fundamental forces of nature, carry souls off to the afterlife and usually look intimidating. At least, that's how they're usually characterized. But sometimes the scariest thing about the reaper is their job. They always lose Chess with Death, have trouble getting mortals to come with them and nobody respects or cares for the job they do. And if there are other gods, they tend to be The Friend Nobody Likes. Maybe there are multiple incarnations of death, and one of them happens to be the Butt-Monkey of the group.
As death in Real Life is permanent, having something as inevitable and final as death be portrayed as a joke can serve as catharsis for the reader/viewer, or being seen as a joke allows someone to pity them. Maybe the idea of such an important and powerful entity being a joke is hilarious in itself. Of course, they're still The Grim Reaper or a god of death, so don't be surprised when they turn the tables and show a badass side to them.
Sister trope to The Devil Is a Loser and Loser Deity, when Satan and a god/the God is the Butt-Monkey, respectively. While it can overlap with Don't Fear the Reaper, that trope is where Death isn't scary because they're nice, not because they're a loser. Compare Hanging Up on the Grim Reaper, where someone tries to push away Death, but that doesn't mean it's a recurring problem or Death's necessarily a loser. Sub-trope to The Grim Reaper.
Examples:
open/close all folders
Anime and Manga
In Black Butler, the Grim Reapers are a bureaucracy to collect the dead. All of them are blind without their glasses and are constantly bogged down in paperwork and assignments. Even their scythes can be blocked by the likes of high-grade cutlery (albeit, supported by Sebastian's demonic strength). To top it all off, their duties are a direct result of their decision to commit suicide in their past lives.
Death Note: The Shinigami are Gods of Death that collect human lifespans through the Death Notes. While impossible to harm by humans, they're generally lazy and bored who do little if anything in their own decaying Shinigami Realm besides extending their own lives, some even having died by forgetting to extend their own lifespan. Sidoh in particular is a joke among the Shinigami who slacked off so much he lost his Death Note. Ryuk is about the only proactive shinigami who started the plot because of how boring the Shinigami Realm is.
Comic Books
Green Lantern: Downplayed with Nekron, Lord of the Unliving. While a legitimately powerful and dangerous Cosmic Entity, he is usually stuck as a bodiless spirit in the limbo-like Land of the Unliving, where he was threatened by the paradox of an immortal like Krona dying, and when Hal Jordan manages to incite the recently dead spirits to rebel against him. While he averts this by being a cosmic threat in Blackest Night, he's only able to do so because of the death of his tether, Black Hand, and is banished to his realm shortly after Black Hand is revived.
Fairy Tales
There are numerous stories where Death gets captured by a tricky human. Cf. also Aarne-Thompson 330.
Fan Works
Spooky: While Tombstones is one of many Neopets working as a Grim Reaper, he's shown to be highly inept at anything unrelated to reaping. He's also the member of the main cast who's most likely to be subject to slapstick and general misfortune.
Films — Animated
Films — Live-Action
Literature
Mort: At the beginning of the story, Death's apprentice Mort is very bad at his job, completely messing up his entrance and unable to go through with the actual scything. Thankfully his first customer is an understanding witch who walks him through it, and It Gets Easier as time goes by. Death even tells Mort that it's a good sign: had Mort shown sadistic pleasure in performing the Duty, his apprenticeship would have been cut short.
Live-Action TV
Music
Mastodon: The video for Show Yourself features a comically inept Reaper who gets outrun by an old lady using a walker, beaten at Chess with Death, and berated by his boss and fired for misidentifying his targets. He does succeed at killing Mastodon by making their tour bus crash with a Banana Peel.
Religion
The Bible: In the book of 1st Corinthians, Paul the apostle says, "Where, O Death, is your sting? Where, O Grave, is your victory?" when he tells how those who believe in Christ will be resurrected, as "the corruptible" is "clothed with incorruption" and "the mortal" is "clothed with immortality", and when that happens, "death is swallowed up in victory."
Video Games
Rayman Origins: Mister Grimm is one of the least threatening-looking versions of The Grim Reaper out there, being a senile old man who's looking for his teeth.
Downplayed in Have A Nice Death: The tedium and stress of running Death Inc. has weakened the Reaper considerably so he has to fight his rogue employees the old fashioned way, he still has a ton of weapons and spells at his disposal.
Web Animation
In Purgatony death is at least a Pointy-Haired Boss. While he has power and respect among the caseworkers of Purgatory, he's stressed out by his massive responsibility and having to deal with the resentful protagonist Tony Purgatelli. Also, he has constant technology problems, and his support is quite unhelpful.
Webcomics
Western Animation
---