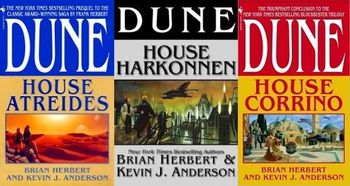 Like many culinary delicacies, revenge is a dish best savored slowly, after long and delicate preparation.

— The Padishah Emperor
The Prelude to Dune series is a prequel trilogy to the popular Dune Chronicles by Frank Herbert. The trilogy was the first outing of Frank's son Brian Herbert and his writing partner Kevin J. Anderson.
The trilogy consists of:
Dune: House Atreides (1999)
Dune: House Harkonnen (2000)
Dune: House Corrino (2001)
The series starts thirty-five years before the events of Dune and sets up the major reasons for the conflict between Houses Atreides, Harkonnen and Corrino, resulting in the events of Dune. The novels cover the events that raise Leto Atreides to power as Duke of House Atreides as well as Shaddam IV as Padishah Emperor, how both Gurney Halleck and Duncan Idaho came to serve the Atreides and hate the Harkonnens, and the events that led Kynes to Dune.
The story sets up the tension between Duke Leto and Shaddam, despite personal like, the events set Duke Leto up as a much stronger and popular political leader in the Landsraad than Shaddam himself, creating part of the perceived threat that later creates common cause between Corrino and Harkonnen.
---
The Prelude to Dune trilogy contains examples of:
---