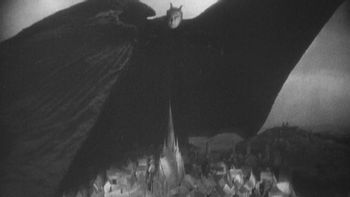 Faust (Faust – Eine deutsche Volkssage—"Faust, a German Folk Tale") is a 1926 film directed by F.W. Murnau, starring Emil Jannings.
It is an adaptation of the story of Faust, taking some clues from Goethe's play Faust: First Part of the Tragedy but (as the subtitle indicates) is not actually an adaptation of it. An archangel and the demon Mephisto (played by Jannings) argue about whether mankind is naturally good or evil. The angel offers as an example of man's goodness one Faust, an elderly alchemist and scientist who thirsts for knowledge. Mephisto then points to Faust's greed, and his efforts to turn lead into gold. They then make a wager, in which Mephisto bets that he can turn Faust away from God, with Mephisto getting dominion over the earth if he wins.
Mephisto brings plague to Faust's town. Faust, in desperation after he can't save the townspeople from death, calls on the devil to help him. Mephisto appears and offers Faust the power to heal the sick in return for his soul. However, the townspeople chase Faust away after figuring out where his power comes from, and Faust abandons good works, instead asking Mephisto for eternal youth and engaging on a series of hedonistic adventures. Eventually, Faust's appetites focus in on Gretchen (Camilla Horn), a particularly beautiful, innocent maiden.
Murnau's last film before he came to America and made Sunrise. Leni Riefenstahl, who would later become infamous for Triumph of the Will, wanted the part of Gretchen. Lillian Gish was approached to play Gretchen but declined.
---
Tropes:
---