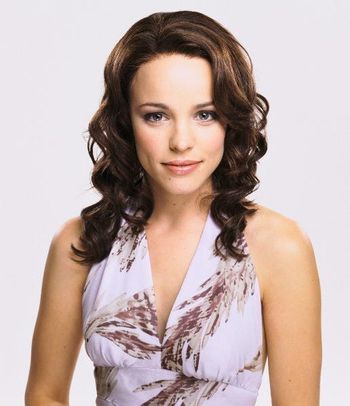 "With any project I work on...I don't feel the need just to play a strong woman. I don't want the audience to say, 'Oh, she was so strong.' I want to play characters that are flawed and interesting."
Rachel Anne McAdams (born November 17, 1978 in London, Ontario) is a Canadian actor.
Adams first came to prominence playing the title role in the 2002 comedy The Hot Chick alongside Rob Schneider, but her career really progressed when she starred as "queen bee" Regina George in 2004's Mean Girls. She was much older than the character she played. She followed Mean Girls with the film adaptation of Nicholas Sparks' novel The Notebook, with Ryan Gosling, with whom she later began an off-screen romance.
In 2005, she played Owen Wilson's love interest in Wedding Crashers, then starred in the suspense thriller Red Eye as Lisa Reisert, a young woman held captive aboard a red-eye flight by criminal-for-hire and assassin Jackson Rippner (Cillian Murphy).
In 2009, McAdams starred in Guy Ritchie's Sherlock Holmes, where she played the role of Irene Adler alongside Robert Downey Jr. as Holmes and Jude Law as Watson; she reprised the role in the 2011 sequel, A Game of Shadows. Also in 2011, she starred as Becky Fuller in the cult comedy Morning Glory, alongside Harrison Ford and Diane Keaton.
Also in 2009, she played Clare in The Time Traveler's Wife (2009), based on the book, starring with Eric Bana.
She has an old school Hollywood beauty about her. In fact, part of what helped her land her role in Sherlock Holmes was her classic looks, which didn't make her look too young to be a love interest for Robert Downey Jr. (13 years her senior). Among the people she has dated in Real Life are Ryan Gosling (2005–07) and Michael Sheen (2010–13); since 2014, she has been in a relationship with screenwriter Jamie Linden, with whom she has a son (born in 2018) and a daughter.
Some people jokingly refer to her as the "Time Traveler's Love Interest" after she starred in four films playing the love interest to a male lead who could time travel or control time in some way — The Time Traveler's Wife (2009), Midnight in Paris, About Time, and Doctor Strange. McAdams herself has reportedly gotten sick of this and wants to be in a movie where she can be the time traveler for a change.
---
Selected Filmography:
open/close all folders
Film roles
Television roles
---
Tropes relating to her roles:
---