Spoilers for all Marvel Cinematic Universe works preceding this one will be left unmarked.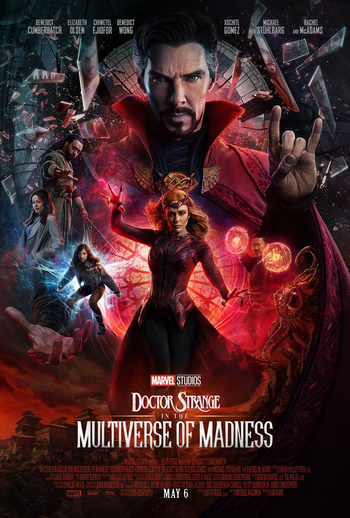 "You break the rules and become the hero. I do it, I become the enemy. That doesn't seem fair."
— Wanda Maximoff/The Scarlet Witch
Doctor Strange in the Multiverse of Madness is a 2022 Superhero Horror Dark Fantasy film and the follow-up to 2016's Doctor Strange. The 28th theatrical film (34th overall installment) of the Marvel Cinematic Universe and the 11th entry in Phase Four, it also follows up on the events of WandaVision and Spider-Man: No Way Home. The film also marks both the return of director Sam Raimi to a Marvel property, coming fifteen years after the conclusion of the Spider-Man Trilogy, and the return of the trilogy's composer Danny Elfman to the MCU seven years after co-composing the soundtrack of Avengers: Age of Ultron.
After his botched attempt to restore Peter Parker's secret identity nearly resulted in a massive multiversal crisis, Doctor Stephen Strange (Benedict Cumberbatch) must now prevent another one as he faces a new threat in the form of Wanda Maximoff (Elizabeth Olsen), who's been unable to cope with the loss of the children she materialized when she altered the reality of Westview and wants to be reunited with them at all cost. As the Scarlet Witch, Wanda recklessly uses spells from the witchcraft book known as the Darkhold, which has the effect of corrupting her mind, and she's after America Chavez (Xochitl Gomez), a teenage girl who has the power to open portals to other parts of the Multiverse. It's up to Strange to protect Chavez and prevent Wanda from becoming a multiversal threat.
The cast also includes Chiwetel Ejiofor as Karl Mordo, Michael Stuhlbarg as Dr. Nicodemus West, Benedict Wong as Wong, Topo Wresniwiro as Master Hamir, and Rachel McAdams as Dr. Christine Palmer.
The film released in US theaters on May 6, 2022, with half of the international releases happening on May 4 and 5.
---
Doctor Strange in the Multiverse of Madness contains examples of:
open/close all folders
Tropes A-C
Tropes D-I
Tropes J-P
Tropes R-Z
---
---