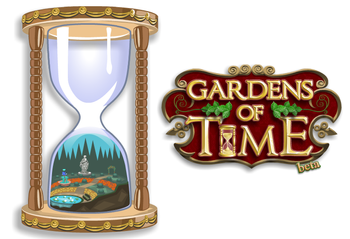 Gardens of Time
is an online hidden objects game first developed by Playdom and released on April 7, 2011. In 2014, The game was bought from Playdom by RockYou when the former hit some financial issues. Gardens of Time has also won the 2011 Facebook Game of the Year award. It is currently available online and on mobile.
The Player Character take on the role of a nameless agent for the Time Society, a secret society that dedicates itself to fix the problems in history, which include items that are out of place (which incorporates the hidden objects part of this game). Temporal paradoxes that crop up from time to time. And the occasional historical figure that needs to be put back in their proper place in time.
There was also a short-lived spiritual successor called Blackwood And Bell Mysteries. While the gameplay and steampunk themes are the same, the story revolved around solving crimes around the world while traveling by blimp.
---
Tropes that appear in the game include:
Bribing Your Way to Victory:

In order to instantly complete buildings instead of waiting for some time, you have to spend gold, which is only obtained with real cash.
An extra sixth level that appear in each chapter, that will usually tell you about a characters' past or deeper motive about a chapter, will cost gold to unlock and after a certain point, each one will need 34 pieces of gold to unlock. But considering that you'll also get an exclusive item, it might be worth it to some.
Time-Travel Romance: This trope is not supposed to happen, for obvious reasons... but it does anyway, and sometimes becomes quite of a plot point.
Tsundere: Megan is a Type B, rather sweet and friendly unless she's genuinely angry or frustrated.
Unwitting Instigator of Doom: Richard. Had he not taken pity on Cleopatra when he met her right before her historical demise and been involved with her, she wouldn't have grown into an opponent 'and more than one Time Travel mess wouldn't have happened... like Geoffrey's death and Eleanor's brief but intense Love Makes You Crazy stint.
---