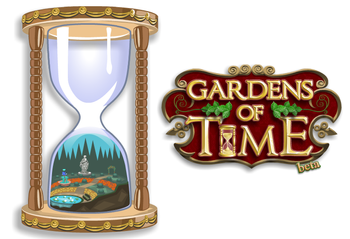 Gardens of Time
is an online hidden objects game first developed by Playdom and released on April 7, 2011. In 2014, The game was bought from Playdom by
Rock You
when the former hit some financial issues. Gardens of Time has also won the 2011 Facebook Game of the Year award. It is currently available online and on mobile.
The Player Character take on the role of a nameless agent for the Time Society, a secret society that dedicates itself to fix the problems in history, which include items that are out of place (which incorporates the hidden objects part of this game). Temporal paradoxes that crop up from time to time. And the occasional historical figure that needs to be put back in their proper place in time.
There was also a short-lived spiritual successor called Blackwood And Bell Mysteries. While the gameplay and steampunk themes are the same, the story revolved around solving crimes around the world while traveling by blimp.
---
Tropes that appear in the game include:
---