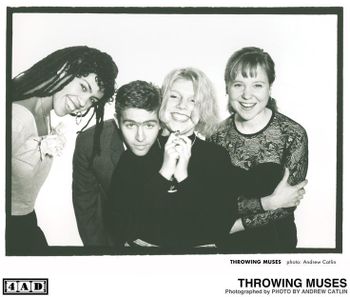 Throwing Muses are an
Alternative Rock
band, formed in Newport, Rhode Island in 1980 by step-sisters Kristin Hersh (vocals, guitar) and Tanya Donelly (vocals, guitar) while they were still in school. The original lineup solidified with the addition of Leslie Langston (bass) and David Narcizo (drums); Narcizo, who had classical training in the snare drum but had never played a full kit before, inherited a cymbal-less drumkit from the band's previous drummer and
decided to go with that
. Hersh was the main songwriter and is now the only one; Donelly also wrote songs, and was lead singer on her own material until her departure in 1991.
Not long after the band formed, the teenage Hersh was seriously injured in a car accident, and after that began to present symptoms which were initially diagnosed as schizophrenia but later rediagnosed as bipolar disorder. Later in life, after she was treated for post-traumatic stress disorder, she turned out also to have dissociative disorder: she had a split personality, and the other one was the one that did the music. (For years, she had no memory of writing or performing any of her own songs.note The post-traumatic stress disorder had nothing to do with Hersh's accident, but came about after her eldest son was abducted by his father — long story. The treatment for PTSD also seems to have dealt with her dissociative disorder.)
In any case, it was in the wake of Hersh's accident that her songwriting in particular began to present themes of disassociation, mental breakdown and panic using eccentric song structures and intricately worked arrangements that mixed up Jangle Pop with Post-Punk, Funk Rock, Country Music and Folk Music, all dolloped with healthy amounts of lyrical Angst. In view of Donelly's later success with her somewhat Lighter and Softer band Belly, commentators sometimes remark on how relatively conventional her songs were compared to Hersh's, but on the early recordings at any rate, the difference was in the subject matter rather than in feel; Donelly's tortured, boiling songs were usually about love ("Green", "Reel") whereas Hersh's tortured, boiling songs were usually about free-floating self-hatred ("Call Me", "Hate My Way").
The two guitarists formed a Vocal Tag Team, and the band's constant touring and self-recorded demo cassette got the attention of College Radio when they were still in their teens. In her 2010 memoir Paradoxical Undressing (published in the US as Rat Girl, because according to Hersh her US publishers felt that the original title had too many syllables), Hersh noted that the Muses in their early days were too young to drink in the venues that they played, and if they happened to go for a stroll before a gig, they got used to club doormen refusing them entry to their own shows on account of their age.
Between 1985 and 1986, the period covered by Hersh's book, the band became the first American act to land a record deal with legendary British post-punk label 4AD Records; Hersh was hospitalised following a suicide attempt; the Muses recorded their first album, and Hersh got pregnant. Throwing Muses earned them critical respect but not exactly massive sales. In the US, the band signed with Sire Records, but over time they realised that their US label, unlike their UK one, had signed them in order to attract other alternative bands that it was more interested in.
A 1988 joint UK tour with The Pixies in support of their second album House Tornado made them darlings of the UK independent music scene, which was charmed by the dissonance between their friendly and self-deprecating offstage demeanour and their intense, even frightening stage presence: a Pitchfork writer once asked
'Does Kristin Hersh have the most terrifying voice in rock?'
In the late 80s and early 90s, the Muses released a series of albums which helped codify Alternative Rock, even if (as they today concede) they very briefly succumbed to Executive Meddling in an attempt to make their music more radio-friendly — Hersh refuses to play "Dizzy", the main single from Hunkpapa, on the grounds that she didn't like it then and doesn't like it now. Their self-belief was justified in that once they stopped trying to make their music more accessible, they did better and better commercially: 1995's University got to No 10 on the UK Albums Chart.
Langston left in 1990. In 1991, Donelly left amicably to be bass player in The Breeders and then formed her own band, Belly, which went on to have chart success: "Feed the Tree" got to No 1 on the US Modern Rock Track chart. Donelly also sang the duet, a cover of Chris Bell's "You And Your Sister" with Kim Deal (The Pixies) on the album Blood (1991) by This Mortal Coil.
Hersh kept the Muses going as a three-piece with new bassist Bernard Georges, but in 1993 her debut solo album Hips and Makers marked the beginning of her solo career, with a minor UK hit single in "Your Ghost", featuring the then-king of moody alternative Jangle Pop, Michael Stipe. Throwing Muses went on hiatus in 1997; Hersh said that they simply ran out of money. She pursued a solo career, which has yielded nine solo albums from Hips and Makers to 2010's Crooked, possibly the first album ever to be issued as a book.
In 2003, the Muses got back together with a second Self-Titled Album (featuring the return of Donelly, but only on backing vocals.) In 2004 Hersh formed hardcore trio 50 Foot Wave, which has been described as 'Throwing Muses, if they were faster, meaner and also swore a lot'; the band pioneered the now-increasingly-commonplace pay-what-you-can scheme for its recordings. In 2013 another Muses album appeared, minus Donelly, who was restarting her own musical career after spending several years focusing on her other career as a doula. Purgatory / Paradise got glowing reviews. Since then, the reformed band has toured the USA and Europe with Donelly as support.
Hersh is one of the pioneers of direct distribution of music over the internet, forming CASH Music in 2008 with Donita Sparks of L7 as a way of bypassing the mainstream music industry.
The band is now entirely audience-funded, operating under Hersh's Strange Angels patron scheme, whereby a quarterly subscription entitles members to new CDs in advance of the release date, downloads, namechecks in liner notes, spots on the guest list for gigs, etc.
The Other Wiki
can tell you more.
---
Throwing Muses' studio discography:
Throwing Muses (1986): Debut album, produced by Gil Norton; spacey, disturbed Jangle Pop wound up to an extreme level of intensity. Every song is a winner; in the opinion of many fans, one of their finest albums.
House Tornado (1988): Very much in the same vein as its predecessor. The UK version has an interesting arty cover; the US version has an alternate cover chosen by Sire, with a photo of the band suggesting that Sire wanted to market them as a more wacky version of the Bangles.
Hunkpapa (1989): The band stumbles slightly in an attempt to be more commercial ("Dizzy"), but it also features the terrifying "Mania".
The Real Ramona (1991): Praised by Rolling Stone as their most successful attempt to make a pop record. Less murky-sounding than previous releases; the first post-Langston album. A good place to start; by turns goofy and harrowing.
Red Heaven (1992): First post-Donelly album, and first with the current Hersh/Georges/Narcizo lineup. Blistering rock fury, including a duet with Bob Mould.
University (1995): Contains their rock radio hit "Bright Yellow Gun".
Limbo (1996): The mid 90s saw the band settle into a relatively straight up alt-rock sound while leaving much of their offbeat charm intact.
In A Doghouse (1998): Compilation of the band's 1985 demo cassette, debut album, Chains Changed EP and some early songs recorded by the 1996 lineup. Also a good place to start, giving a vivid picture of the whole Rat Girl period.
Throwing Muses (2003): Known to fans as the "Uses" album because that's the bit of their name you can see on the front. Hailed by Pitchfork as 'triumphant' return after seven-year hiatus; much ass-kicking rock.
Purgatory / Paradise (2013): Released as a book and CD, with 32 tracks and much downloadable extra material. Sprawling, experimental, epic and intimate.
Their work provides examples of:
---