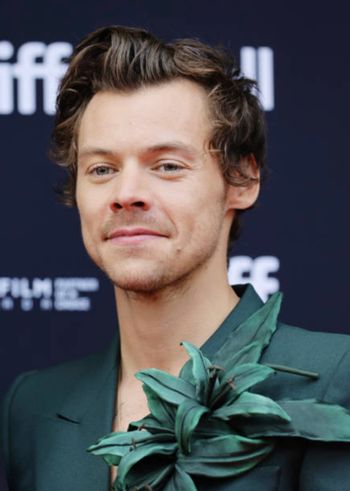 Influenced by:
"Pink is the only true rock & roll colour."
Harry Edward Styles (born 1 February 1994) is an English singer-songwriter and actor, known for being a founding member of the British boy band One Direction and for the massive success of his subsequent solo career.
Styles joined One Direction at their inception on The X Factor in 2010. Upon the group going on an official hiatus in 2016, Styles began working on solo material, and became the second member of the group to release an album (after former bandmate Zayn Malik) with his 2017 self-titled debut, which charted at #1 in his native United Kingdom as well as the United States.
Styles' second album, Fine Line, was said to be more psychedelically flavored than his debut (he admitted to being under the influence of psychedelic mushrooms during its recording). The album debuted atop the US Billboard 200, achieving the highest-ever first-week sales by an English male artist. It was also the most recent album included in the 2020 update of Rolling Stone's 500 Greatest Albums of All Time (having only been out for around nine months), taking the #491 spot. His third album, Harry's House, was another success, spawning the hit lead single "As It Was", which Billboard reported was the #1 song of the year globally, and winning three Grammys, including the 2023 Grammy for Album of the Year.
He is known for his flamboyant fashion sense, particularly his adoption of women's clothing. His music and image have drawn comparisons to that of Mick Jagger, whom he would end up impersonating on an episode of Saturday Night Live in 2017.
Styles made his acting debut in Christopher Nolan's 2017 WWII epic Dunkirk, where he plays an English soldier fighting at the titular locale's infamous battle. He reportedly beat out hundreds of actors who auditioned for the role, and Nolan has claimed he had no idea who Styles was, and that he got the role purely on the strength of his audition. Further film roles from him have included Eros/Starfox in the Marvel Cinematic Universe and a co-leading role in Olivia Wilde's Don't Worry Darling.
---
Solo Discography:
---
Selected filmography:
The X Factor (2010)
iCarly (2012)
One Direction: This Is Us (2013)
Where We Are – The Concert Film (2014)
As actor:
---
Walk through fire for you, just let me trope you:
Absence Makes the Heart Go Yonder: The first verse of "Falling" implies the narrator sees other people when separated from his love interest.

I'm in my bed and you're not here

And there's no one to blame but the drink in my wandering hands
---
♫ In this world, it's just us
You know it's not the same as it was
In this world, it's just us
You know it's not the same as it was
As it was, as it was
You know it's not the same... ♫