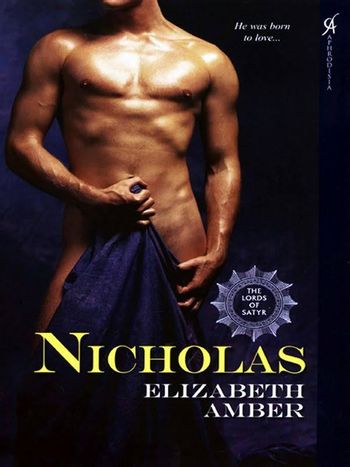 An Erotic Literature/Paranormal Romance series by Elizabeth Amber set in nineteenth-century Europe and featuring two branches of the Satyr clan.
At some point in the mythic past, the Greek god Bacchus fathered children on EarthWorld. His sons, and all the sons of subsequent generations, were satyrs — humanlike men of impressive physical and sexual prowess who are compelled to worship Bacchus one night a month, at Moonfull. When this Calling comes upon them, satyrs undergo a physical transformation that covers their lower bodies in hair and makes them, briefly, doubly endowed and able to enjoy physical pleasure all night long — with the important caveat that every satyr must mate at least once while the moon is full or die a horrible death.
In 1823 Tuscany, three Satyr brothers receive a missive from the dying King of Faerie, Feydon, ordering them to find and marry his three illegitimate half-Human daughters. Though each reluctant for his own reasons, Nicholas, Raine, and Lyon dutifully venture forth (to Rome, Venice, and Paris, respectively) to find, woo, and bring home their brides. Complicating matters is their own duty to guard a portal on their ancestral grounds which links EarthWorld and ElseWorld, which remains secure only when at least two brothers are in residence. They also have to contend with the deadly phylloxera outbreak which is devastating vineyards in Europe — if the Satyr crops are destroyed, they will also sicken and die, giving ElseWorld and its denizens room to enter and cause mischief.
A second series of books is set approximately fifty years later and focuses on another set of Satyr brothers — Bastian, Sevin, Dane, and Lucien — living in Rome. (The two clans are not related beyond their common descent from Bacchus).
The titles in the series thus far are
Nicholas (2007)
Raine (2008)
Lyon (2008)
Dominic (containing the novella Vincent, 2009)
Dane (2009)
Bastian (2011)
Sevin (containing the novella Lucien, 2012)
---
The Lords of Satyr provides examples of: